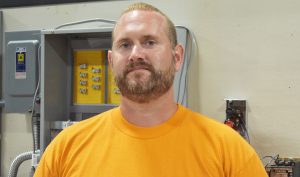 "If you don't learn something new every day, you're not trying hard enough."
That's the mindset Jon Herchik brings to the jobsite.
After 18 years as a carpenter, Herchik was looking for a career that offered more. He spent some time as a salesman for Freightliner Trucks, and then was guided toward becoming a union journeyman electrician.
"This is a really interesting field," he said. "'I like the way it's mixed with on-the-job training and in-class training."
About to begin his third year as a commercial electrician apprentice, Herchik feels a sense of gratification in what he's accomplished so far.
"I would definitely say I've learned a lot as far as on-the-job safety and practical electrical knowledge," he said. "From pulling pipe and wire to low voltage work and control work, there's so much you can learn."
Over the last three years, Herchik has learned three core values that he'll always take with him.
"Teamwork, keeping an open mind and safety. Those are the keys to success."
Throughout his apprenticeship, Herchik has worked on various projects that have tested him mentally and physically, with two coming to mind as his favorites.
"Definitely the swimming pool at the Lake Club and an Amazon Distribution Center in Cleveland," he said.
While at the Amazon Distribution Center, Herchik got the opportunity to interact with 150 electricians.
"The size of that facility was just amazing. To go and get some materials sometimes was a 15-20 minute walk each way," he said. "As an apprentice you hiked a lot."
The timetable of the Lake Club project was a learning experience for Herchik as well.
"Typically, you would have a little over a year on a project like this. We did it in about six months. It was amazing we got it done in that time frame."
When he's off the clock, Herchik enjoys cooking and spending time with his wife, Heather, and their three children. This past year, Herchik helped coach his daughter's softball team, in addition to helping coach soccer.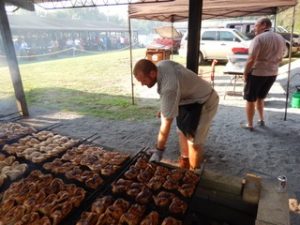 Herchik and his wife also help out in the community as a host family for the Youngstown Phantoms. They've been involved with the program for the last 15 years and build lifelong relationships with the players.
"We enjoy watching these kids grow," Herchik said. "I would like to say my family has grown immensely and we've made some really good friends. These guys know they always have an open door if they're ever passing through."
With many things to keep him busy, Herchik believes the sacrifice is worth it.
"There's never enough hours in the day to get everything done. It's tough with work and school, but I enjoy it very much."
Herchik also has one goal in mind as he looks ahead to topping out.
"I'd like to end up being one of the best," he said. "I'd like to look back and say, 'I did my job well and earned the respect of the guys that I worked with, and they would say the same.'"