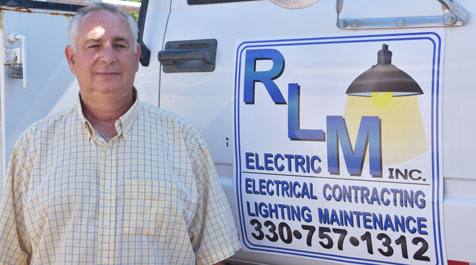 It's all about the thrill of victory for Bob Magni.
Magni has a passion for muscle cars that began to roar while he was in high school. He would race against his large group of friends, going up against the likes of a Pontiac GTO, Plymouth Barracuda or Chevy Camaro.
"Back then, we would buy these cars, make them run and then take them to the drag strip," Magni said.
When he got married and started having children, he had to take a step back from his hobby. As his kids got older, his passion evolved to collecting and building these vintage treasures.
"For me, it's all about driving and working on them," Magni said.
Now, Magni has seven muscle cars he has collected and built from the ground up. His pride and joy? A 1969 Pontiac GTO.
He has also re-built a '69 Chevy Camaro SS 396 and a race car, doing all the motor work himself.
When he's not tuning up automobiles, Magni focuses on his role as vice president of RLM Electric Co. Inc. He got his start in the electrical field by following in his father's footsteps, who was an electrical engineer.
As one of six children, Magni would watch his father install electrical work on homes and garages throughout the Mahoning Valley.
"By the time I was 12 years old, I was putting in plugs and switches," Magni said. "When I was 15, I was bending conduit and pulling wire. My father taught me so much."
In 1984, Magni started RLM and vividly remembers his first job – wiring a home on Tanglewood Drive in Boardman.
"I wired the whole house, got inspections and hung the fixtures," Magni recalled. "By the end of my first year, I had wired 30 homes."
Magni's electrical craft is based around three set principles.
"Treating employees like family, customer satisfaction and the quality of work."
When discussing his favorite projects over the years, Magni recalled two that tested him.
One was a carbon limestone landfill project in Poland from Energy Developments, Inc. out of Australia. It was determination and patience that allowed Magni to get the project.
"I waited outside of a meeting for the representative and he asked me to take him to the airport," Magni said. "We had lunch and discussed what previous jobs I had done similar to this project. We said goodbye and I didn't hear anything. A few weeks later, I got a phone call from a project manager."
That phone call also led to additional work in Lorain County, Ohio; Port Clinton, Ohio and Chicago, Ill. over a five-year span.
The other project was wiring three Boardman hotels – all at the same time.
"That was a year's worth of work at the Residence Inn, Hampton Inn and Fairfield Inn that sticks in my mind."
With plans to semi-retire next year, Magni has a simple philosophy he follows.
"I'm just taking things day by day."