As Shell Oil considers plans to build a billion-dollar ethane cracker plant in Western Pennsylvania, the IBEW is assertively positioning itself to win construction work for its signatory contractors.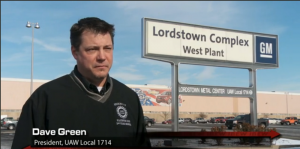 Recently an IBEW international film crew was in the Mahoning Valley gathering interviews and footage to include in a sales video touting the IBEW's unique capabilities to service Shell's needs with union electricians from among the local workforce.
"We escorted the film crew around the Warren Joint Apprenticeship Training Center to capture the added value inherent in our comprehensive training programs, as well as to VEC and UAW 1714 to share how our labor force is prepared to perform work of the magnitude Shell is talking about," said Jack Morse, business manager, IBEW Local 573.
The film crew interviewed Chris Jaskiewicz, chief operating officer at VEC/Evets and Dave Green, president of UAW Local 1714 about work performed by IBEW electricians at V&M Star and General Motors' Lordstown Complex.
Shell is considering a location in Beaver County, Pa., for the facility that, if approved, would require significant work for area building trades. The video is intended to get in the hands of Shell's board of directors and other company decision-makers.