NECA-IBEW Electricians member contractors are playing a role in the transformation of downtown Youngstown.
One such project is the recently completed Wick Tower at 34 West Federal St., a 13-floor building initially completed in 1910 that was gutted and transformed into luxury extended-stay and long-term apartment rentals. "Joe" Dickey Electric served as the electrical contractor for developer NYO Property Group.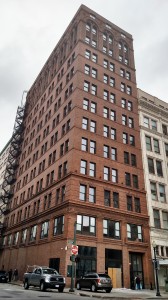 "We more or less started fresh on this and treated it as a new build, outside of preserving certain historically significant features such as the elevator and marble-lined lobby," said Justin Lewis, project supervisor, "Joe" Dickey Electric. "Electrical elements included bringing the building up to today's National Electrical Codes, adding LED lighting in the units and corridors, installing an 80-kilowatt backup generator, and tying in the two elevators."
"Joe" Dickey Electric, whose crew was there approximately 14 months with an average of five union electricians at any given time, also worked hand-in-hand with NECA-IBEW Electricians member contractor Grunau Electric on the fire alarm system installation.
"We all live and work in the Mahoning Valley, and feel a sense of pride when it comes to having a hand in improving the downtown area," said Eric Carlson, vice president, "Joe" Dickey Electric.
"Joe" Dickey Electric has also performed work at the Erie Terminal and Realty Towers buildings.

NECA-IBEW Electricians is comprised of area union electrical contractors, IBEW Local 573 in Warren and IBEW Local 64 in Youngstown. Member contractors include Becdel Controls, Boot Electric, Bruce & Merrilees, CR Electric, Cretella Electric, Datacom Inc., Falls Electrical Contracting, Grunau Company, Gulu Electric, "Joe" Dickey Electric, Keeling Brothers Electric, Liberty Electric, Main Lite Electric, MG Electric, Penn-Ohio Electric, Rafoth Electric, RLM Electric, Roth Brothers, Santon Electric, Tri-Area Electric, University Electric, VEC, Inc. and Zenith Systems.