Eight year-old Corena Carolyne might not yet know which hand she's going to throw with, but she was certainly excited to meet and play catch with a professional baseball player during Mahoning Valley Scrappers Media Day.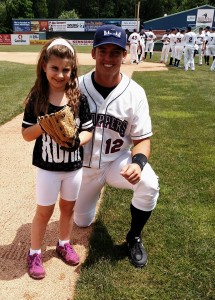 Carolyne, of North Lima, was chosen to throw the ceremonial first pitch at the June 25 Scrappers home opener, an honor donated to Big Brothers Big Sisters of Mahoning Valley by NECA-IBEW Electricians. Carolyne is on the waiting list to be matched to a mentor in the program.
The Scrappers rolled out the red carpet for Carolyne, her mother and grandmother, including giving her a goody bag full of souvenirs, taking her on a behind-the-scenes tour of Eastwood Field and allowing her the opportunity to announce herself over the stadium's PA system.
"We're sponsoring the night's fireworks display, and with that came the opportunity to throw the ceremonial first pitch," said Jack Morse, business manager for IBEW Local 573 in Warren. "Rather than doing it ourselves it's really more our nature to give back to the community; in this case partnering with Big Brothers Big Sisters to help them raise awareness for the need for more adult mentors in their program."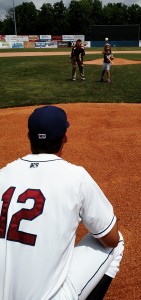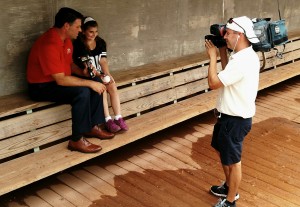 Carolyne practiced both right- and left-handed for her first pitch with Scrappers catcher Daniel Salters, a 2015 draft pick of the Cleveland Indians. The Scrappers host the State College Spikes at 7:05 next Thursday. A sell-out crowd is anticipated.