The NECA-IBEW Electricians partnered with the Mahoning Valley Scrappers on a promotional program that included sponsorship of the home opener's fireworks display.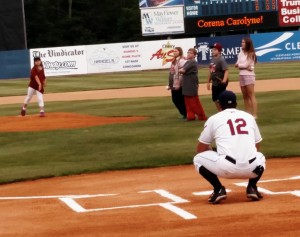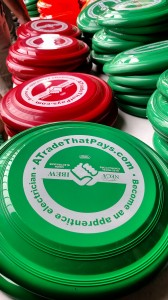 As the more than 5,000 fans arrived at Eastwood Field in Niles, Ohio, they were given flying discs with the NECA-IBEW Electricians logo promoting the electrician apprentice program. And before the game started, fans saw Corena Carolyne, an 8 year-old from the Big Brothers Big Sisters program, throw out the ceremonial first pitch, an experience donated to the non-profit organization by the union electrical contractors and electricians.
Other aspects of the Scrappers partnership include signage on the dugout and outfield wall, and ads in the game program and lineup card.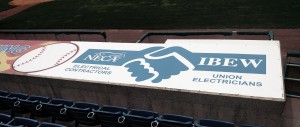 "One of our priorities this year is to promote our electrician apprentice programs and recruit qualified candidates to join our ranks, and partnering with the Scrappers allows us a unique opportunity to reach a broad audience throughout the entire Mahoning Valley," said Jack Morse, business manager, IBEW Local 573 in Warren. "We not only made a big splash with the debut of our program tonight, but we also used the game to show how we give back to the community and as a fun night out for many of our members."