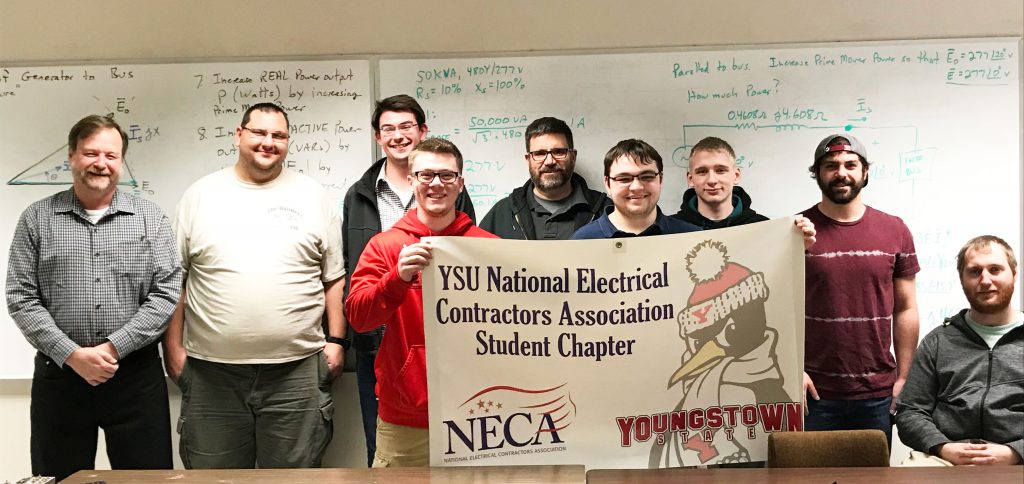 Eight YSU students are putting their electrical skills to the test while looking to conserve their strong presence in a national, sustainable energy competition.
Members of the YSU Student Chapter of the National Electrical Contractors Association (NECA) are finalizing their proposal for the Green Energy Challenge, which tasks teams to analyze particular electrical construction management problems and create a proposal for an appropriate retrofit.
Once submitted, proposals are reviewed by a group of contractors and industry partners. The top three student teams are selected and invited to present their proposals at the national NECA Convention, which is in Philadelphia this September .
This year's students consist primarily of sophomores and juniors. Dr. Ted Bosela, professor at YSU and faculty advisor for YSU's Student NECA chapter, believes the learning curve for the students is paying off.
"This year is a little more challenging because they don't have upperclassmen to lean on," Bosela said. "I'm seeing this group really starting to evolve with their research and knowledge. They are enjoying the whole process."
Bosela has been the faculty advisor since 2012. Over the last few years, YSU's Student NECA Chapter has had success in the Green Energy Challenge. In 2012, the YSU team won the proposal component over Georgia Institute of Technology, Iowa State University and the University of Washington. The team also took first place in the poster competition in 2013 , which involved designing a visual depiction of the team's proposal for improving the energy efficiency of the M-1 parking deck on campus.
All throughout this semester, students utilized an invaluable tool: members of the Mahoning Valley Chapter of NECA. Tom Welch, president of YSU's Student NECA Chapter, was grateful for that resource.
"We are a young group and pretty new to this project," Welch said. "Members of Mahoning Valley NECA were a huge help to lean on and get knowledge from."
"Our member contractors are always so generous with their time mentoring and getting to know the students," said Jack Savage, MV NECA executive director. "This student chapter has an impressive track record in this competition, and has shown it can hold it's own with the top schools in the country."
For this year's Green Energy Challenge, teams had to choose a facility that provides community service, so it chose The Rich Center for Autism, located in Fedor Hall on YSU's campus. As part of the proposal, students have to conduct an energy audit of the facility, make recommendations on areas where energy can be saved, incorporate green energy options and develop conceptual designs. In addition, students generate cost estimates and a construction schedule for the project.
For Welch, the selection of The Rich Center hit close to home.
"I have a couple family members who have autism, so I had a bit of understanding what we might need to do when putting the proposal together," Welch said. "We wanted this to benefit the Green Energy Challenge, but also help the students at The Rich Center."
Recommendations in the proposal for The Rich Center include lighting in the building and moving a transformer that is currently on the first floor. Welch was among the members who did research into the color-tuning of the lighting upgrades that would be best for students with autism.
"We believe [the lighting upgrades] were extremely important in this proposal," Welch said.
Along with the proposal, the competition requires students to participate in volunteering activities. Members took part in helping at a recent pancake breakfast along with a phone-a-thon for YSU's "We See Tomorrow" campaign.
Ryan Fry, junior civil engineering student, was among those who worked the phone-a-thon. Fry knew exactly who to call when seeking his first donation.
"I called my parents first and got them to donate," he said with a laugh. "Overall, it was great to work alongside faculty at The Rich Center and help them out."
Fry's duties on the proposal include the design and setup of the solar panel structure.
"It's been good to tie everything together we have learned in school. It's been a good process and a look into the real world. I've definitely learned a lot during this project."
As they wrap up this year's proposal, Dr. Bosela and YSU's Student NECA Chapter are looking forward to next year's competition, as well.
"It's rewarding for me as the advisor to see the growth in these students," Bosela said. "We are going to take it to the next level next year."