VEC, Inc. owner Rex Ferry was among a contingent of construction industry representatives to testify at a U.S. House hearing this week about how executive actions to facilitate infrastructure projects has already led to job growth.
Ferry spoke on behalf of the National Electrical Contractors Association at a hearing titled "Modernizing Energy and Electricity Delivery Systems: Challenges and Opportunities to Promote Infrastructure Improvement and Expansion," which was chaired by Rep. Fred Upton (R-MI).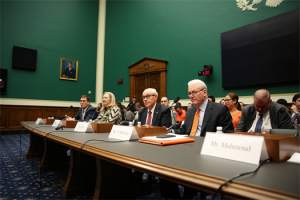 Ferry's testimony read:
"NECA contractors work across the commercial and industrial sectors and specialize in a broad range of areas including traditional power and lighting, power quality, lighting controls, fire, life safety and security systems, backup power generation, communication and connectivity systems, automation controls and energy efficiency projects. We believe a comprehensive federal energy policy measure is needed to address current and future demands of the entire electrical construction industry. We were pleased with the progress this Committee made last Congress in moving comprehensive energy legislation forward and hope a final package can quickly come together this year. We will continue to offer our support in helping advance the Subcommittee's agenda and look forward to working with you all as you move forward in enacting smart and sound policy to help foster American energy independence, grow the construction industry, and expand our nation's economy."
VEC, based in Girard, is a member contractor of NECA-IBEW Electricians, a group of Mahoning Valley electrical contractors and IBEW union locals in Warren (Local 573) and Youngstown (Local 64).