At a time when donations have been down, the members at IBEW Local 573 stepped up with a check for $1,230 for the Warren Family Mission.
"We passed the hat at our monthly union meeting and, as per usual, our members were more than generous in their support for wanting to help the Warren Family Mission," said Jack Morse, IBEW Local 573 business manager.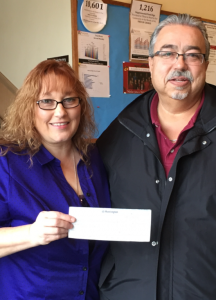 It's a holiday tradition for the union electricians to support a worthy community organization. The money will be deposited into the Mission's general fund, which goes to support three facilities for men, women and children, and helps it serve 10,000 meals per month to families in need in Trumbull County and surrounding areas.
"Most of the organizations are down this year because of the economy, so we're very appreciative of what the electricians have done," said Cheryl Parsons of the Warren Family Mission. "All donations help us help other people. Our services are all free to those we assist, so whatever we get it, we give out.
The Mission is still in need of new, unwrapped holiday toys for distributing to children in need in the area. Donations are accepted through the weekend at 155 Tod Ave. NW in Warren.
IBEW Local 573 is a key component of NECA-IBEW Electricians, an association of union electrical contractors and IBEW locals in the Mahoning Valley.