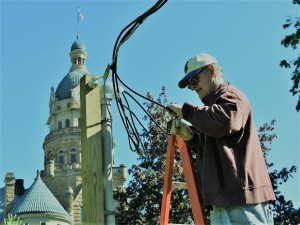 In what's become a 20-plus year tradition, more than a dozen tradesmen from IBEW Local 573 in Warren were once again on Courthouse Square this week setting up the electrical service for what has become one of the largest American Cancer Society Relay for Life events in the state.
"Bill Horton started doing this way back when, and each year we've gathered a group of current members, apprentices and retirees to continue it as a community service project," said Eric Davis, Warren Electrical JATC training director.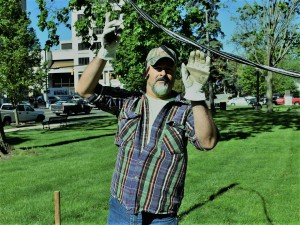 Not only do the electricians set up power on Courthouse Square with equipment they purchased specifically for this purpose, but upwards of 50 tradesmen participate in one way or another selling food to raise money for cancer research, troubleshooting or doing tear-down after the event.
"We have cancer survivors among our members, and nearly everyone has family members who've been affected by a cancer diagnosis, so we never have a shortage of volunteers looking to help," said Jack Morse, IBEW Local 573 business manager.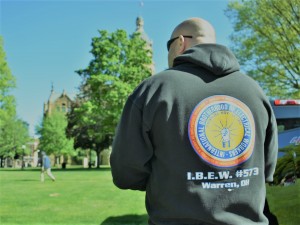 Last year IBEW Local 573 donated more than $1,000 from sales of pulled pork sandwiches and mushrooms during the event, as well as contributed more than $3,000 in in-kind electrical services.
The Warren Relay for Life starts on Courthouse Square Friday, May 12 at 6 p.m. and runs through Saturday afternoon.