NECA-IBEW Electricians member contractor VEC, Inc. made quite the impression on one Mahoning Valley educator who spent a week there this summer as part of a job shadowing experience.
Canfield special education teacher Rachel Camuso was one of 21 Mahoning Valley educators who participated in a job shadowing session as part of the Educator in the Manufacturing Workplace program. After four days of observation and being immersed in the VEC working environment, Camuso came away with a very favorable opinion of the company and its commitment to excellence.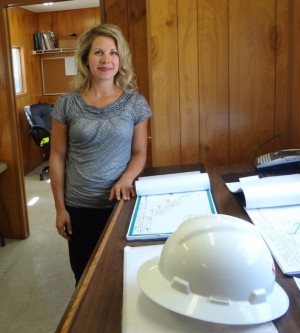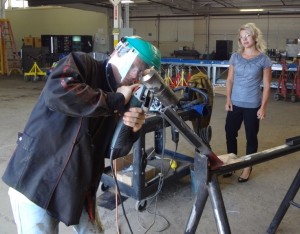 "It was an unbelievable experience that has left me with so much knowledge and a new appreciation for the workforce that my students will eventually strive to be in," said Camuso, who spent four days in the company's Evets Oil & Gas Construction Services division in Hubbard. "It was an honor to be in such a wonderful work environment.  I was impressed from the moment I walked into the Tibbetts Wick office."
Jim Burgham, IBEW Local 64 business manager, sits on the Workforce Investment Board of Mahoning and Columbiana County that was involved in organizing this program.
"The program was designed to give educators an inside look at what a career in manufacturing is like, and to help them better understand the skills and aptitude required for workers," Burgham said.
Camuso noted how knowledgeable the workers were of VEC's history and the emphasis placed on teamwork in order to achieve common goals. She also noticed the pride and high morale of the workforce.
"Your employees recognized how great it is to work for such a fantastic, family- and faith-based company," said Camuso. "I was able to speak with a variety of different people and each one of them knew their importance within the company.  They were proud of their jobs and how hard they work in order to build a legacy for future employees of VEC."
Camuso's career has been limited to the classroom, so her experience at VEC allowed her to get a glimpse of what things are like in a manufacturing type of work environment. She was impressed with how employees adapted to ever-changing roles and technology and plans to take what she observed and learned and apply them in her classroom curriculum.
"Coming from public education throughout my career, I have not had a chance to experience how diverse a day's work can be within a company.  Schedules are flexible and always changing. Technology is an important tool for a variety of job tasks and workers are busy from the time they arrive until they are able to go home," said Camuso.
"As a teacher, I will be able to teach my students that what they learn in math class is directly related to the manufacturing and skilled work environment.  They will use their math skills someday.  I will focus more attention on incorporating more computer skills into my lessons so that my students are familiar with how technology can be an asset to their learning and eventually in their work day."