The year was 1986. Jim Beil was working as estimator and purchasing agent at AF Beil Electric Inc., which his uncle owned. Edward Slattery was chief estimator at Warden Electric.
Both men, in their early 50's, too young to retire, were leaving their positions for different reasons. They had known each other for years and decided to join forces in starting their own company – University Electric Inc., established in December 1987.
All four of Beil's sons followed in their father's footsteps with a passion for the electrical construction industry. Jim and Joe are electricians in the field, Tom began his career as an electrician and now serves as company president, and Kevin started as a truck driver and then shifted to estimating while at University Electric. Jim Beil's daughter is the office manager, and his grandson, Eric Jay, worked as a journeyman electrician before transferring to the office as estimator and project manager.
"I'd have to say our work ethic came from our dad," Tom Beil said.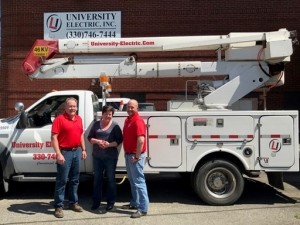 The Slattery family also has a penchant for the trade – Slattery's three sons, Ed, Pat and Tim, are electricians as well.
As is inevitable in business and in life, many changes have occurred throughout the years. In 2009, after a long battle with cancer, Edward Slattery passed away. Jim Beil partially retired shortly after Slattery's death.
The following year, Kevin Beil had the opportunity to buy into Main Lite Electric in Warren, and joined John Harnar in running that organization.
But other aspects of the business have remained the same – namely, the company's warm, family-like atmosphere, and their unwavering dedication to their clients.
Located near the Youngstown State University campus, University Electric specializes in commercial and industrial projects. Their company philosophy is to focus on earning a customer for life through honesty, commitment and high-quality work.
The company retains five in-house employees and an average of 15 in the field.
Despite University's small size, they can handle a variety of commercial and industrial projects, from oil offloading facilities to hospitals and auditoriums. They also have a lot of design-build experience.
"To have a company that is able to handle all these types of work is very satisfying," Eric Jay said.
University Electric is a member contractor of NECA-IBEW Electricians, an association of signatory electrical contractors serving the Mahoning Valley.