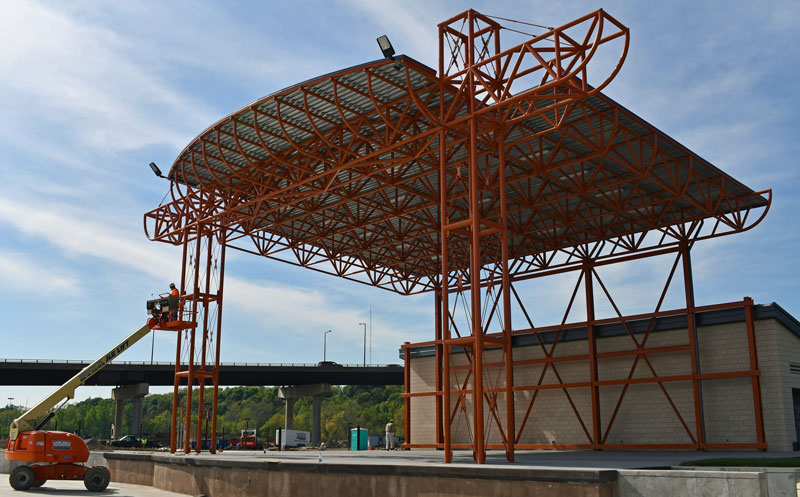 What once was the former Wean United site in downtown Youngstown has been revived as the Youngstown Foundation Amphitheatre, with member contractor Tri-Area Electric at the heart of the project.
"Last summer, this area was just an open field essentially full of rubble and dirt," said Michael Johnston, project manager for Tri-Area Electric. "Now, this project has transformed into a beautiful riverfront park for the City of Youngstown."
Now as the amphitheatre gets set for its first concert this week, Johnston is thrilled with the work Tri-Area has done over the last few months.
"I'm proud that Tri-Area Electric has their fingerprint on this project," he said. "It's a lasting, durable legacy for not only the City of Youngstown and its residents, but also the fact we're proud participants here and proud of the work we provide the community."
The early phases consisted of implementing underground high-voltage conduits, establishing transformer pad and pole base locations, and installing underground conduit infrastructure.
One of the most challenging aspects of the electrical installation was due to it being an open field.
"All of the points on this project had to be located through GPS coordinates," Johnston said. "All the pole bases and building locations, none of these were established. They were all done on a computer, and these guys came out here, located all this stuff, built these buildings and roughed in all this underground conduit."
In addition to extensive site lighting and the construction of seven buildings that included power, lighting and teledata infrastructure, Tri-Area also installed state-of-the-art technology for the lighting controls.
One particularly interesting aspect of the project is an LED color changing architectural lighting system under the Market Street bridge.
"It's a fully-automated lighting system with color changing movable lights," Johnston said. "It's going to be incredible and knock the socks off of the residents."
Johnston also noted how weather and site conditions provided interesting factors to deal with, giving credit to all those involved with the construction.
"The City of Youngstown, Brock Builders and all the other contractors on the job have been outstanding to work with," he said. "It's been a major effort to get us where we are here today."
Tri-Area Electric is a member contractor of NECA-IBEW Electricians, an association of signatory Mahoning Valley electrical contractors and IBEW locals in Youngstown and Warren.