Before ever stepping foot into the workforce, many college students have accumulated four years or more of student loan debt. And many of them experience shock or panic when they receive their first bill, some of whom haven't even secured a full-time job yet.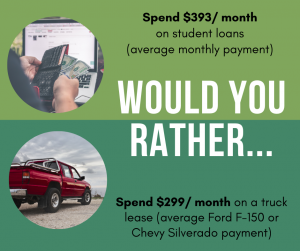 Last year, 69 percent of college students took out student loans, and the class of 2018 graduated with an average of roughly $30,000 in student loan debt (StudentLoanHero.com) at an average monthly amount due of $393.
What if you could earn the same amount per year (or more) as many college graduates, but without the student loan debt that comes along with it? According to US News, electricians rank as the sixth highest paying job without a college degree.
College simply isn't for everyone
For many high school graduates, college simply isn't something they want to pursue. Whether it's the expense, the large class sizes or the irrelevant required courses, college isn't for everyone. Preparing for a career in the skilled trades through a union apprenticeship, on the other hand, includes individualized instruction and exclusively career-related courses. Further, you are virtually guaranteed employment – and in your chosen field – once you complete the apprenticeship.
Now is the time to consider becoming an electrician, according to Ed Emerick, training director of the Youngstown Electrical Joint Apprenticeship and Training Committee (JATC).
"Let's face it," he said. "College isn't for everybody and there will be a shortage of qualified electricians as the Baby Boomers retire."
You don't have to be a recent high school graduate to join the apprentice program, either. Many electricians join the trade after years of working in a similar or completely different line of work. Additionally, becoming an electrician is a viable career option for women.
A good candidate for an electrician apprenticeship should have a strong work ethic, a desire to work with their hands, an ability to learn and master technical concepts, a drug-free lifestyle, a passion for the construction trades, and a willingness to train alongside the area's most skilled and experienced journeymen electricians.
Earn as you learn
One of the most rewarding aspects of learning the trade is that it's standard practice to receive paid on-the-job training in the form of an apprenticeship. And as apprentice electricians gain more skills and experience over the three to five years it takes to complete an apprenticeship program, their earnings also increase accordingly.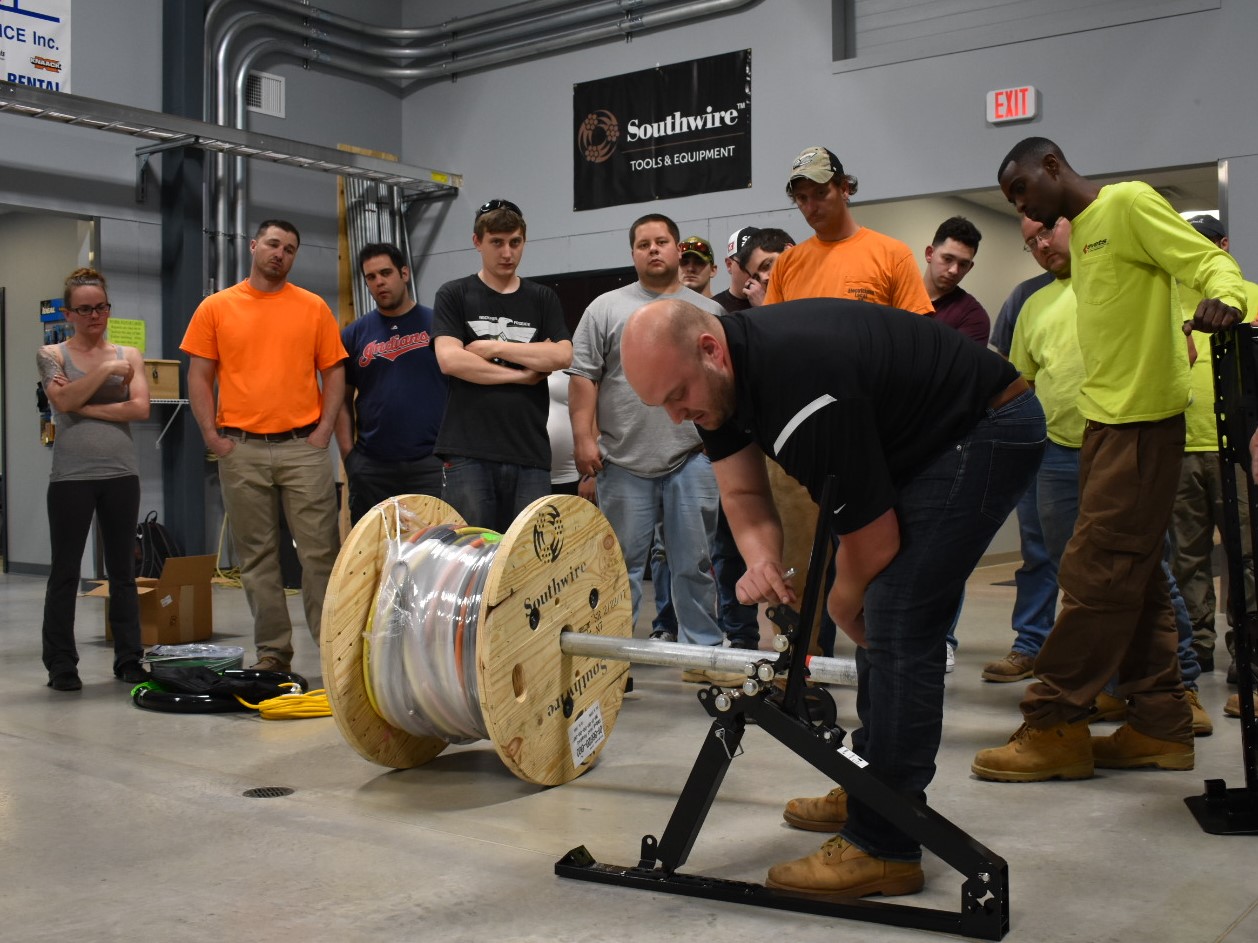 Apprentices earn a 40-hour paycheck virtually each week—as opposed to accruing college tuition debt—and attending hands-on, job-related classes and labs a couple nights per week. They're also eligible for health insurance and a pension program.
"The beauty of this program is that after it's completed and you acquire your journeyman certification, you will have work opportunities throughout the United States," Emerick said. "I believe we are the best because we're a facet of a nationwide program."
Residential or commercial electrician. You decide.
Residential apprenticeships run three years and consist of 160 hours of classroom training each year and a total of 4,800 hours in on-the-job training. Commercial/industrial apprenticeships are five years with minimums of 180 hours of classroom training yearly and 8,000 hours on-the-job training. Training programs for apprentices are conducted in state-of-the-art training facilities and are approved by the Bureau of Apprenticeship, U.S. Department of Labor, and the Ohio State Apprenticeship Council.
These rigorous, certified educational programs provide apprentices and journeymen with state-of-the-art entry and upgrade training. They become qualified electricians and technicians in the areas of Residential Wireman, Journeyman Lineman, Journeyman Tree Trimmer, Journeyman Inside Wireman and Telecommunication VDV Installer-Technician.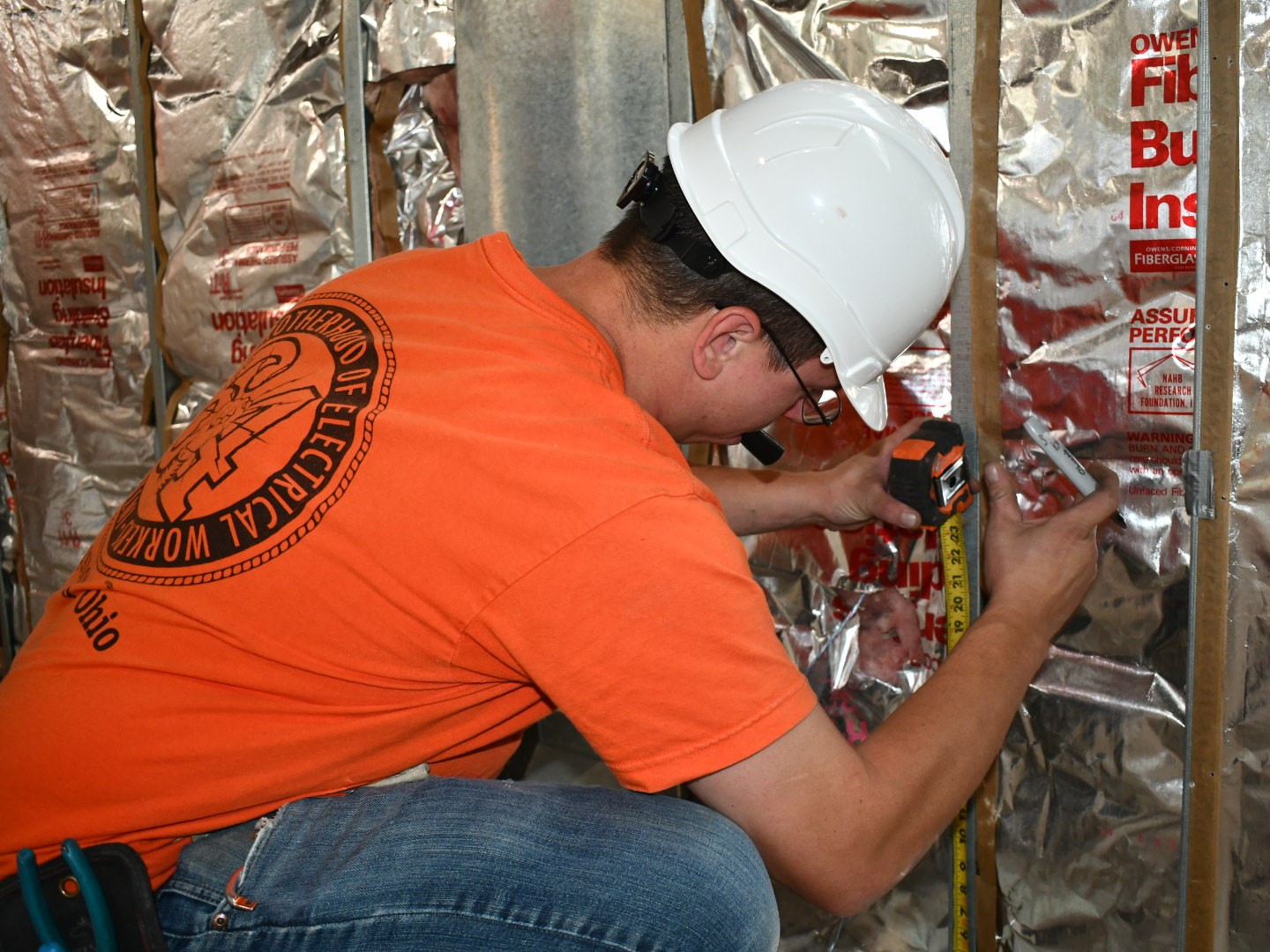 Tony Barber, a 22-year old Struthers resident in the final year of his commercial/industrial electrician apprenticeship, said the program has set him on a career path that he loves.
"It's a great program and a great opportunity," he said. "The electrical business is booming right now and there are a lot of job opportunities."
As of 2018, there were 715,400 electrician jobs in the United States, according to the U.S. Bureau of Labor Statistics (BLS). Looking at other trades, HVAC careers come in at about half that number with 367,900 jobs. Similarly, pipefitters, plumbers, and steamfitters, while all are excellent career options as well, they combine for fewer U.S. jobs than electricians do.
Electrician career options abound
There are many career options upon completion of the apprenticeship. You can work as a journeyman, a supervisor, project manager, union representative or even become your own contractor. Some electricians continue their education and work toward an engineering or other technical four-year degree.
Emerick believes that strong economic development and oil and gas activity throughout the Mahoning Valley and surrounding areas will increase opportunities for electricians, especially those trained through the efforts of the contractors and the union.
In today's uncertain economy, a steady job with generous pay is something we all want. The median pay for an electrician is more than $55,000 per year, according to the U.S. Bureau of Labor Statistics (BLS). The average starting salary for Class of 2018 college grads was roughly $51,000.
Many entry-level jobs that typically require a college degree pay significantly less than $50,000. For example, recent college grads who work as counselors, social workers, graphic designers, event planners, athletic trainers and teachers all typically have lower starting salaries than electricians (USA Today).
In comparing annual salaries to other building trades, electricians fare extremely well; ahead of the other higher-paying trades like pipefitters, plumbers, and steamfitters ($53,900/year), ironworkers ($52,600), bricklayers ($49,770), HVAC mechanics and installers ($47,600), and carpenters ($45,000).
"This is the best apprenticeship program out there and if people have the attitude, aptitude and are willing to work, this will open the door to a very bright future," Emerick said.
Visit ATradeThatPays.com to see video testimonials from some of the most recent classes, and learn more about the career opportunities an apprenticeship affords – and how to apply – by visiting the Youngstown JATC or Warren JATC websites.