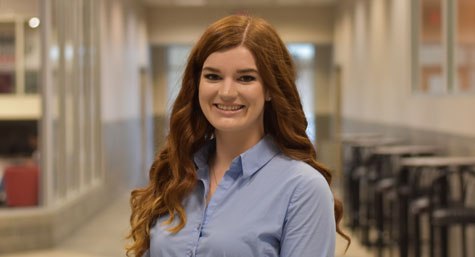 Kristen Thompson, a junior at Youngstown State University, was awarded the 2018 Mahoning Valley LMCC Scholarship through the Youngstown State University Foundation.
"It's an amazing feeling," Thompson said. "Without having scholarships, I don't think college for me would have been a possibility."
As she enters her third year at YSU, Thompson is double majoring in electrical engineering and music performance, while also pursuing a minor in mathematics.
The $1,000 scholarship is funded through a joint labor-management committee comprised of IBEW Local 64 of Youngstown and the Mahoning Valley chapter of the National Electrical Contractors Association. Both organizations are part of NECA-IBEW Electricians.
The scholarship is open to YSU students pursuing an undergraduate degree that would benefit the electrical industry. Eligible applicants also have to be an employee or relative of an employee affiliated with IBEW Local 64 or signatory electrical contractors in the Mahoning Valley.
Thompson's father, David, is a member of IBEW Local 64. For Kristen, her family background in the electrical industry was the driving force for her career path.
"With [my father] being an electrician and my grandfather was an electrical engineer, it's no surprise I ended up choosing the career path that I did for electrical engineering. My father also influenced me going into music."
Throughout the years, Thompson recalls watching her father display devotion for his career on a daily basis.
"He is such a hard worker and so passionate about his field," she said. "He would always go to work and then he could come home and do stuff around the house or wire thing, and I would kind of follow him around."
Thompson also draws inspiration from David's battle with stage 3 colon cancer. David is now cancer free.
"He went to chemotherapy one week and if he felt ok, he would go back to work the next week," she said. "He supported me in my music lessons and taking me to all my events. For that, I'm so grateful."
Over the last three months, Thompson has interned with Goodyear Tire and Rubber Company as an electrical engineering intern. She is appreciative for the hands-on experience throughout the internship.
"I had the opportunity to work on developmental equipment for new tire products," Thompson said. "I did a lot of human machine interface development, which is a touchscreen panel that an operator will use to interface with a machine. I also did a lot of PLC programming and wiring schematic checks."
In addition to her internship and college studies, Thompson also helps those interested in music by teaching individual lessons and being an instructor with the Youngstown Youth Symphony Orchestra.
As she prepares for her future career, Thompson draws back on a belief she's had for many years.
"If you ever want to do anything, you'll make the time. Being able to watch my dad and how long and hard he works, that determination always inspired me to continue."
RELATED: NECA-IBEW Electricians award first YSU scholarship
For more information about the Mahoning Valley LMCC scholarship, click here