In the eyes of Dan Santon, nothing happens by chance.
"This wouldn't have happened if all the pieces of the puzzle weren't in place," Santon said, referring to Santon Electric, the business he has owned for about four decades.
Santon Electric is a member contractor of NECA-IBEW Electricians, an association of Mahoning Valley signatory electrical contractors and IBEW locals in Warren and Youngstown.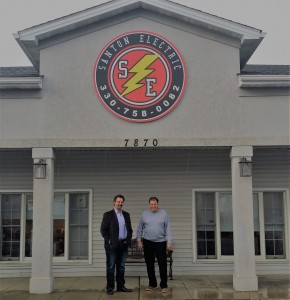 It's a puzzle made up of great relationships, hard work, steadfast faith and family involvement. His son, Dan "Bud" Santon, has taken over the responsibility of running the company as president. His other son, Joe Santon, is a union foreman electrician. And his wife, Mary, has been supporting the business administratively since the beginning.
Santon said when he was finishing high school, the results of a career placement test suggested he pursue a job in electrical construction. He went to work for Frank Donchatz of Donchatz Electric, who helped him get a start in the IBEW apprenticeship program and acted as his mentor in the early stages of his career.
He said the foremen and superintendents with whom he worked as a young electrician also inspired his work ethic and were among his greatest teachers.
"I have to give credit to all the people who have helped me," Santon said.
In 1975, Santon was a union electrician working for a company that was closing shop, and he happened to be wiring homes for a residential contractor who asked him if he would be interested in completing unfinished homes plus new builds. Santon agreed, and thus Santon Electric was born.
Suddenly his garage became a warehouse, his dining room became an office and his life became a whirlwind as he and his wife took on the challenge of raising five children and running a business.
Within a year, Santon was able to hire a few more electricians. He was also able to relocate the company headquarters from his home, moving six times before establishing the company's current location on four adjacent lots in Boardman in 1994.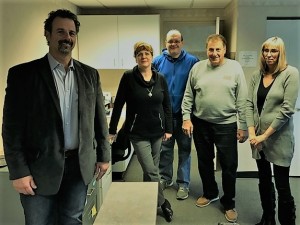 Now, Santon Electric has an annual revenue of about $10 million and retains 15 in-house employees and an average of 55 in the field doing work throughout northeastern Ohio and western Pennsylvania. Many of those employees have been working with Santon Electric for more than 20 years.
Santon said the only real challenges have come during economic slowdowns, an obstacle which he conquered by diversifying his business to include more residential, commercial and industrial services.
"There's never been a case where we didn't have good people," Santon said. "We've always had that."
He also has a lot of good memories, including the time his company worked on a house for the Extreme Makeover: Home Edition TV show in Boardman 12 years ago. As usual, good relationships played a role in becoming involved with the project.
Now, the Santons continue to make memories and serve their customers as Dan Santon enjoys semi-retirement.
"I have it easy," Dan Santon said with a chuckle. "Now I just walk around the office and create havoc once in a while."
Although Bud Santon has an electrical engineering degree, he said he's received the best education from his father, both in the technical and business sense as well as leading others.
Bud Santon said there's no end in sight for the company, as he wants to continue providing job security and a good work environment for his team.
"This place isn't about me or my father," Bud Santon said. "It's about the people who work here."