The average annual cost of tuition and fees for the 2014–2015 school year was more than $30,000 at private colleges and $9,000 for state residents at public colleges, according to the College Board.
With the rising costs of tuition, graduates can expect to pay at least $40,000 for a bachelor's degree.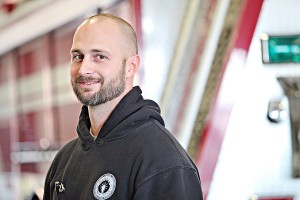 Truth is, college simply isn't for everyone. What if, instead of paying thousands of dollars each year in tuition, you could get paid to work and learn skills that would lead you to a life-long career? If that sounds appealing, a rewarding career as a union electrician could be the choice for you.
The NECA-IBEW Electricians and Youngstown and Warren Area Electrical Joint Apprenticeship and Training Committees offer unique opportunities for individuals to receive electrical training while they work. Applications are taken year-round.
"Once you learn, you have this training, this skill for the rest of your life," said journeyman electrician Kyle Harnett, who recently completed the commercial apprenticeship program and journeyman examination. "This has provided a good, solid, steady income for my family."
JATC commercial and residential electrical apprenticeship programs strive to create an educated, well-trained workforce in the field of electrical construction while providing a unique educational opportunity for those looking to enter the workforce or change careers.
Apprentices in the commercial program even receive college credits for their classroom work.
Interested in learning more? See firsthand what Harnett has to say about his commercial apprenticeship experience in this video.
"If you are a hard worker and willing to learn, an apprenticeship is definitely worth taking a look at," he said.