We're kicking off a new blog series on "What is NECA," starting with the key takeaways from the recently concluded National Electrical Contractors Association's annual convention in Boston.
NECA, a national organization with a chapter locally in the Mahoning Valley, is the voice of the electrical construction industry. Its contractors set industry standards for traditional and integrated electrical systems and lead the industry in the practical application of new technologies.
The recently concluded NECA 2016 convention featured a blend of inspiring keynote speakers, dynamic networking opportunities, exhilarating educational sessions, exciting technology advancements and a little bit of fun. A contingent of electrical contractors from the Youngstown and Warren areas attended, as did Mahoning Valley NECA Executive Director Jack Savage.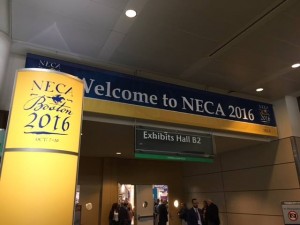 "The Convention is always an incredible experience," Savage said. "You get to do and see things that you might not otherwise. The opening reception at the Boston Museum of Science was amazing and the closing ceremony at Symphony Hall to watch the Boston Pops Orchestra was so entertaining. In addition to all of the education, training and networking opportunities, the Convention is always a great experience, and this year was no exception. As always, it is great to catch up with the folks from NECA National and our friends from other Chapters."
Contractors who attend always bring back valuable information and business advice to help them grow and learn the latest electrical industry advancements, which ultimately benefit the residents and commercial entities in the Mahoning Valley.
"There is an educational seminar for just about any area of the business that can be utilized by the contractors in their businesses," Savage said. "The networking opportunities are endless, and many contractors tell me that they learn the most just from speaking to other contractors; and this benefit is priceless."
Savage says the common theme at the event was the positive general outlook for business in 2017.
"Nationally, there is not a shortage of work but regaining work from non-union companies is always a priority," he said. "We heard from the new IBEW President, Lonnie Stephenson, who indicated that he looks forward to working with NECA to ensure that the future outlook is bright."
Next in our series we'll cover NECA contractors' competitive advantage in the marketplace.