Now entering 114 and 90 years, respectively, local chapters of the National Electrical Contractors Association and International Brotherhood of Electrical Workers have left a lasting legacy as residential, commercial and industrial electricians who have helped shape the landscape of the Mahoning Valley.
NECA-IBEW Electricians is an association of IBEW Local 64 (Youngstown), IBEW Local 573 (Warren) and signatory electrical contractors in the Mahoning Valley.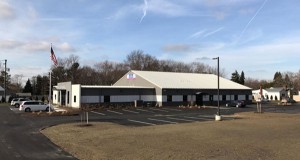 Evidence of the industry's bright future can be seen at the corner of Southern Boulevard and Western Reserve Road in Boardman, the site of the Youngstown Area Electrical JATC's new training center. The facility, funded by member contractors, houses the electrical apprenticeship and journeyman training programs and the offices for IBEW 64 union leadership.
"Our industry locally is experiencing an aging workforce, so we needed a state-of-the-art facility to recruit and train the next generation of union electricians," said Jim Burgham, business manager, IBEW Local 64. "The new space dramatically expands our capabilities and adds new equipment and tools that give our apprentices unique, hands-on learning opportunities that complement their field training."
Investing in a highly-trained workforce powered by the latest technology and tools is critical, but NECA-IBEW Electricians' impact in the community goes beyond what they do "on the clock."
Member contractors and affiliated unions buy into the importance and value of investing in the community. A prominent initiative is supporting local veterans-related causes.
"Our veterans have sacrificed greatly to give us the freedoms we enjoy every day," said Jack Morse, business manager, IBEW Local 573. "One of the greatest returns we can get on our investment is by supporting our veterans."
In 2016, the organization donated labor and materials to cover renovation work on a local VFW hall in Austintown, as well as financial help to the YSU Veterans Center. It will continue supporting veterans causes in 2017 with a concentrated effort to identify and support additional needs of area veterans.
Other community service initiatives include a scholarship through the YSU Foundation for families employed through member contractors and unions, Relay for Life events, Youngstown and Warren beautification efforts, and more.
Member contractors have an optimistic view of the local region's economy in 2017, largely driven from projects like the Lordstown Energy Center, Shell Cracker Plant in Monaca, Pa., Youngstown City Hall Annex, Meijer's, Nordson Xaloy, Chill-Can and expansion and renovation of local hospitals and schools.
"So far for the year, we're busy in the residential sectors," said Jack Savage, Mahoning Valley NECA executive director. "The commercial sector is starting a little slowly, but we're projecting some nice-sized commercial and industrial jobs on the horizon."
NECA-IBEW Electricians member contractors cover Trumbull, Mahoning and Columbiana counties, and include Becdel Controls, Boot Electric, Bruce & Merrilees, CR Electric, Cretella Electric, Datacomm Inc., Falls Electrical Contractors, Grunau Company, Gulu Electric, "Joe" Dickey Electric, Keeling Brothers Electric, Liberty Electric, Main Lite Electric, MG Electric, Penn-Ohio Electric, Rafoth Electric, RLM Electric, Roth Brothers, Santon Electric, Tri-Area Electric, University Electric, VEC, Inc. and Zenith Systems.