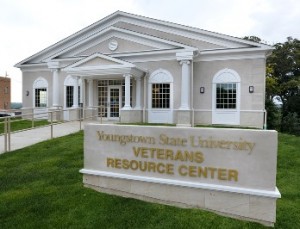 A celebratory ribbon-cutting ceremony marked the culmination of a year-long construction project at Youngstown State University as it officially opened its new Veterans Center this week. The $1.25 million project was supported by a $2,500 donation from NECA-IBEW Electricians.
Local media covered the event.
The 6,000 square-foot facility expands services to military veterans and service members transitioning to student life at YSU, according to the university.
At the time it presented its $2,500 check to YSU, NECA-IBEW member contractors and union representatives shared their connection to the project.
"NECA contractors and the IBEW both share a rich history of employing military veterans," said Jack Morse, business manager, IBEW Local 573 in Warren. "There's often a natural fit among the qualities we look for in our members and the values and work ethic commonly found in veterans."
"Supporting the Veterans Center project at YSU is an opportunity for us to give a little back in appreciation for those who've served," said Jeff Barber, vice president/principal, VEC Inc.