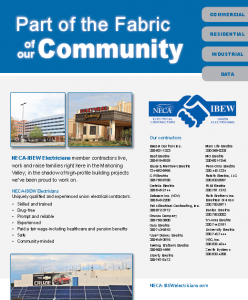 The NECA-IBEW Electricians launched a new full-page ad in the Business Journal that features recent high-profile commercial construction projects in the Mahoning Valley.
Under the headline "Part of the fabric of our community," the new campaign points out the local contributions in skilled labor and charitable service performed by NECA-IBEW Electricians' member contractors and IBEW electricians.
Multiple member electrical contractors have been involved in major projects at GM Lordstown, St. Elizabeth Boardman, Hollywood Gaming at Mahoning Valley Race Course and other highly visible buildings in and around the Mahoning Valley that will be featured in subsequent ads.
"We're unique in that our member contractors and union electricians live, work and contribute back to the Mahoning Valley community in such remarkable ways, and evidence of our talents and experience are virtually everywhere you look in the area," said Jack Savage, executive director of the Mahoning Valley NECA chapter. "We thought it was more than appropriate to shape our latest ad campaign around those elements."
NECA-IBEW Electricians member contractors include Becdel Controls, Boot Electric, Bruce & Merrilees, CR Electric, Cretella Electric, Datacom Inc., Falls Electrical Contracting, Grunau Company, Gulu Electric, "Joe" Dickey Electric, Keeling Brothers Electric, Liberty Electric, Main Lite Electric, MG Electric, Penn-Ohio Electric, Rafoth Electric, RLM Electric, Roth Brothers, Santon Electric, Tri-Area Electric, University Electric, VEC, Inc. and Zenith Systems.