Electricians from Santon Electric installed a 100-amp service upgrade to a home in Austintown, the owner of which had fallen on hard times and had her utilities shut off more than a year ago. NECA-IBEW Electricians, a collaboration of union electricians and electrical contractors, covered the $1,500 electrical upgrade cost as a community goodwill initiative.
The homeowner had resorted to powering the home with a generator after the electrical company said it couldn't restore service until electrical updates were made to bring the service to code. The homeowner had managed to settle the unpaid utility bills, but was unable to come up with the necessary funds to make the required service upgrades.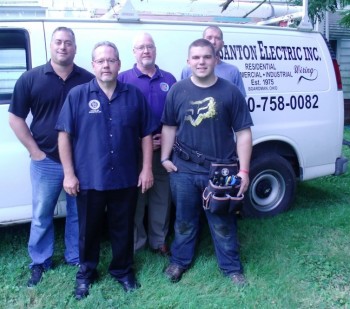 "We received a call about the situation from the woman's father, a former union factory worker in the area who had since moved away to find work when the factory closed down," said Jim Burgham, business manager, IBEW Local 64. "He pleaded to us for help, and fortunately we were able to lend assistance along with member contractor Santon Electric."
NECA-IBEW Electricians union locals and member contractors have performed hundreds of hours of goodwill projects such as this when the situation warrants, and when funds and manpower are available.
"In this case there was a clear need for financial assistance, a desire by the homeowner to climb out of a difficult situation, and a potentially dangerous situation in place with her using a gas-powered generator for electricity that we felt was critical to address," said Bill Booth, president, IBEW Local 64.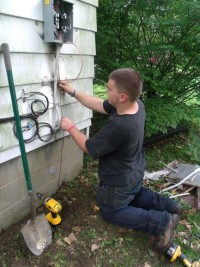 Santon Electric utilized the project, in part, as a hands-on learning experience for a School-to-Work Program participant under the supervision of a journeyman electrician. School-to-Work enables students at the Mahoning County Training Center with an interest in a career in the trades to receive exposure to real field work. The student involved in this project, Colton Ware, graduated this past spring from MCTC and was recently accepted into the IBEW's apprentice program.