The 2014-2015 edition of the OH-PENN Interstate Region Economic Development magazine has hit the streets, and it's hard to miss the splash made by the Youngstown, Warren and Western Pennsylvania union electrical contractors and IBEW electricians locals.
The NECA-IBEW Electricians group placed a full-page ad on the inside front cover that touts, in part, "We work together to provide the most qualified and reliable electrical work for commercial, industrial, residential, voice, data and fiber optic projects.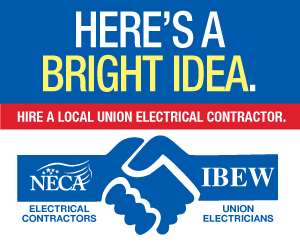 The ad goes on to list signatory electrical contractors in Trumbull and Mahoning counties in Ohio, and their counterparts in Western Pennsylvania. It also references the partnership with IBEW Local 64 in Youngstown, IBEW Local 573 in Warren and IBEW Local 712 in Western Pennsylvania.
The OH-PENN magazine is published annually and distributed through universities, chambers of commerce and other sources to businesses and individuals seeking information on locating to the Mahoning and Shenango Valleys.