NECA-IBEW Electricians reached an agreement to become an official sponsor of Youngstown State University athletics, a move that affirms the positive relationship the association of area union electrical contractors and IBEW electricians has with the university.
Included in the two-year sponsorship is signage at YSU football games, a tailgate package, full-page program ads for football and men's and women's basketball, and prominent signage at multiple Penguin Club events.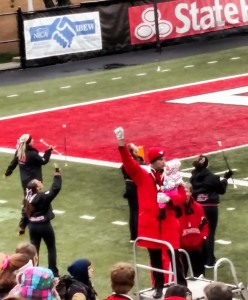 "The sponsorship initiative is a win-win for both parties, as it supports several student-athlete initiatives, while it also allows NECA-IBEW Electricians to raise our profile in the community," said Jack Savage, executive director, Mahoning Valley NECA.
"Our members are always proud to work on university construction projects, and we appreciate the trust YSU has in the experience and quality of workmanship our union electricians and contractors bring to the job," said Jim Burgham, IBEW Local 64 business manager.