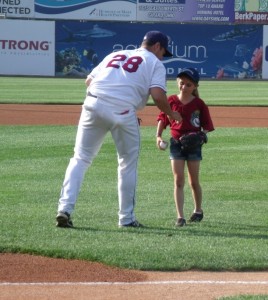 If you were at the Mahoning Valley Scrappers home opener June 17 it was hard not to notice a huge presence from the NECA-IBEW Electricians.
The group of union electrical contractors and members of IBEW Local 64 in Youngstown and IBEW Local 573 in Warren sponsored the post-game fireworks display, featured an ad in the game program, participated (by proxy) in the ceremonial first pitch, had huge signage covering the tops of both dugouts, distributed NECA-IBEW-branded Frisbees to the first 1,000 fans and took up most of Section 204 as part of a huge opening day crowd.
"We enjoy partnering with the Scrappers not only because their events are first-class and family-oriented, but the games offer excellent exposure for showcasing our member contractors and union electricians, specifically the unique skills they bring to residential and commercial electrical projects," said Jack Morse, business manager, IBEW Local 573.

As part of its fireworks sponsorship, NECA-IBEW Electricians was given the opportunity to throw the ceremonial first pitch, which it donated to the Skok family of Austintown. James Skok is a disabled Marine veteran who's family is the recipient of the Habitat for Humanity's Veteran Build home, a project strongly supported by NECA-IBEW Electricians.