An initial wave of donated labor and materials from various union building trades have kicked off a multi-phase renovation of VFW Post 4237 in Austintown.
This week, electricians from NECA-IBEW Electricians member contactor Zenith Systems are upgrading the electrical service for the existing structure. They'll remove the three old services and install two new services per Ohio Edison. The main 200 amp service is for the VFW post's basic needs and to accommodate future renovations.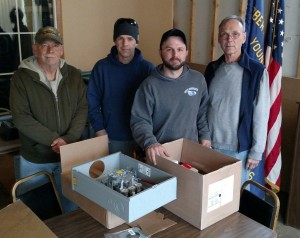 "By upgrading this system it'll give our 200-plus members some needed power and lights, and help get us on our way for the next phase of interior renovations as soon as we're able to secure funding from the community," said John Balint, post commander.
NECA-IBEW Electricians' labor-management cooperation committee allocated the funds to cover this repair to honor the military service performed by the posts' members.
"VFW posts like the one in Austintown help maintain a patriotic presence in our communities, provide social outlets and services for veterans returning from foreign wars, and remind us of the sacrifices these brave men and women have made for our great country," said Bill Booth, president, IBEW Local 64.
Other building trades have helped re-roof the building and performed structural masonry work.