An association of local electrical contractors and union locals is optimistic that 2020 will provide ample work opportunities with new projects throughout the community.
NECA-IBEW Electricians is comprised of IBEW Local 64 of Youngstown, IBEW Local 573 of Warren and signatory electrical contractors in Trumbull, Mahoning and Columbiana counties.
Last year, work was steady and NECA-IBEW was able to provide manpower for all of their contractors' needs, allowing them to bid on new projects while still taking care of their longtime customers.
Additional work opportunities were available to many union electricians at the Shell Cracker Plant in Beaver Valley, Pa.
"We're optimistic that the large-scale economic development projects being talked about locally come together in 2020 and our member contractors can be involved," said Tom Lipka, executive director, Mahoning Valley NECA Chapter. "Some of them have the potential to employ hundreds of our tradesmen steadily for as long as two years."
Specifically, TJX, Meijer, YSU, Shepherd of the Valley, Menards, Lordstown Motors, General Motors/LG Chem and several local hospitals have projects ongoing or planned that have the potential to drive significant business for the local building trades this year.
"Menards is planning a very large distribution and manufacturing facility in North Jackson," said Jim Burgham, business manager, IBEW Local 64. "We continue to be a great location for manufacturing and distribution centers because we have the contractors and manpower to build the facilities and the workforce once they are built."
Ensuring a trained, available workforce
Along with upcoming projects, NECA-IBEW Electricians member contractors are focused on updating their training programs and staying in front of high school students to promote career opportunities in the electrical trade. Maintaining an available, highly skilled workforce is an ongoing challenge both locally and nationally.
In 2019 the association added an Instagram account targeting younger audiences with workforce development-related content.
"One of our strengths is our training initiatives, both for journeymen and apprentices, as it ensures the skilled workforce our contractors need to pursue these large-scale projects," Lipka said.
As the electrical industry continues to advance technologically, NECA-IBEW Electricians are committed to staying up-to-date.
As evidence, the Youngstown electrical training center recently made an investment in automation control training panels.
"These training panels were used for the first time this past fall to teach our journeymen about automation control systems," said Bill Booth, president, IBEW Local 64. "Automation controls are used in manufacturing facilities, mills, plants or anywhere where automation or conveyors are needed to move products automatically."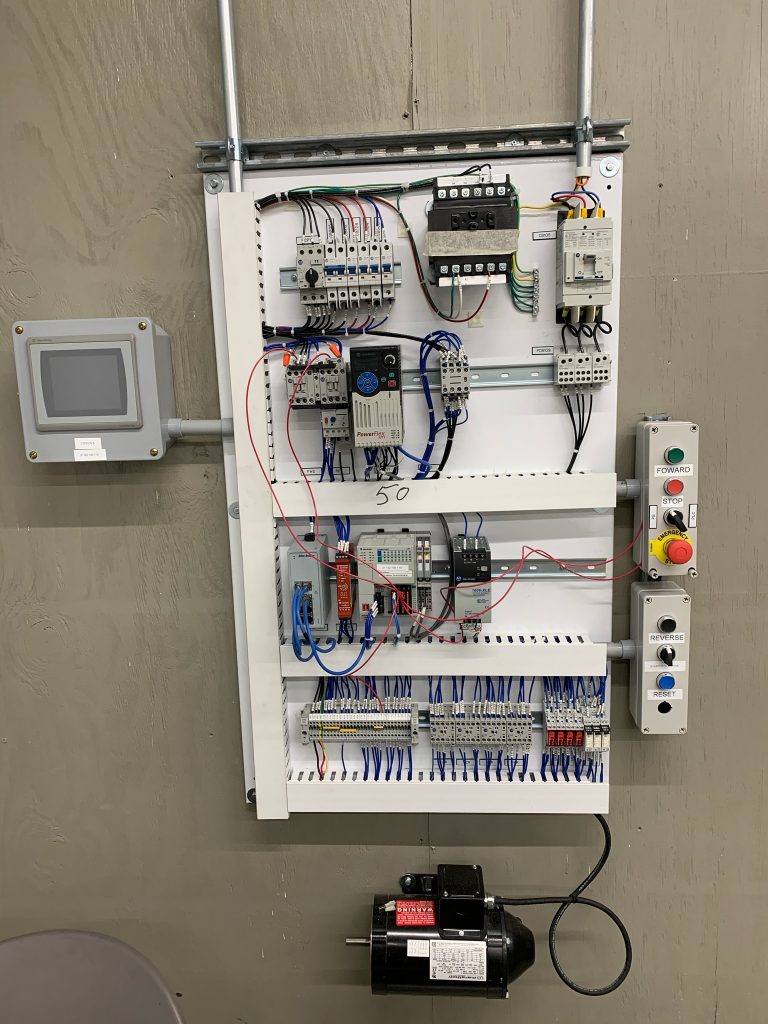 Giving back to Veterans and communities
NECA-IBEW Electricians are proud to give back and support their community, and 2019 was another opportunity to demonstrate their collective generosity. Highlights of their efforts included:
• IBEW Local 64 participated in United Way's Day of Caring by building a wheelchair ramp for a retired NYC 9/11 firefighter.
• A $5,000 donation to the Rescue Mission of the Mahoning Valley toward its new facility.
• IBEW Local 573 and member contractor CR Electric continuing their tradition of setting up electrical service for the Warren and Liberty-McDonald Relay for Life events.
• Providing $500 gift cards to two local Veteran families in-need at Christmas time.
"Each year, key priorities for us include giving back to the community and supporting Veterans causes," said Mike Nemkovich, business manager, IBEW Local 573 in Warren.
NECA-IBEW Electricians member contractors include Becdel Controls, Boot Electric, Bruce & Merrilees, CR Electric, Cardinal Electric Power, Cretella Electric, Datacom, Grunau Company, Gulu Electric, Joe Dickey Electric, KV Electric, Keeling Brothers Electric, Liberty Electric, MG Electric, Main Lite Electric, Penn-OH Electric, Powerpoint Electrical, RLM Electric, Rafoth Electric, Santon Electric, T Squared Electrical, Tri-Area Electric, University Electric, VEC and Zenith Systems.