Hundreds of people spent part of their Sunday raising money and offering positive vibes for the young son of a building trades executive who's battling leukemia.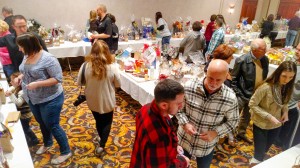 Support for Sean was held at Youngstown's Stambaugh Auditorium, and included a pasta dinner, raffles and auction items, and was well-attended by the community and many in the building trades.
NECA-IBEW Electricians, an association of area union electrical contractors and IBEW Local 573 in Warren and IBEW Local 64 in Youngstown, was among the Orange Level sponsors of the event.
He will stay strong, he will fight, he will win. #TeamSean