MG Electric, proves every day that you don't need a shop with dozens of workers in order to keep customers happy.
"We don't mess around – we get things done," said Mark Gentile, owner of MG Electric, a NECA-IBEW Electricians member contractor. "We work hard and take our responsibility very seriously. We feel like if you have a good work ethic and treat your customers right, they'll call us back again."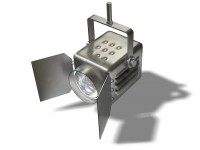 Gentile's business, located in North Lima, opened in 2011. The staff specializes in commercial and industrial electrical work, including whole building systems, phone and data, and whole building wiring.
MG Electric services the Youngstown area, but has also completed projects in Akron and Pittsburgh. They have a reach all over Northeastern Ohio and western Pennsylvania.
Although only a small shop, MG Electric's reputation has allowed it to secure some high profile work. Some of the most recent projects they've completed include services and renovations at the Gasser Chair Co., Crivelli Chevrolet, Panera Bread,  O'Charleys,  Huntington Bank, Farmers National Bank and for many other local businesses.

"We emphasize our quality of work and our ability to get things done," said Gentile. "We strive to keep our customers satisfied."
Having just owned his business for two years, Gentile has been encouraged by the direction his company is going, as well as the state of the electrical services industry as a whole. He also believes that customers receive a lot of advantages by hiring NECA-IBEW Electricians member contractors for their projects.
"Customers will get quality workmanship and workers who are well-trained and focused on safety," said Gentile.
He also notes that all the building trade industries are doing well right now.
"It's a great time for everyone in the trades," he explained. "The economy seems to be doing better and with the oil and gas industry on the rise, hopefully this will help the industry prosper."