When the athletic boosters at Crestview High School needed some telecommunications work done, they naturally turned to a familiar name – Shawn Campbell. And when the general manager of Datacom Inc. heard what the project was, he didn't hesitate in lending a hand.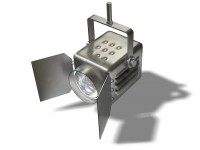 "That's my alma mater," Campbell explained. "They needed some help with the football stadium's sound system. We donated the labor for that about three or four weeks ago."
That's just one of several projects Datacom, a NECA-IBEW Electricians member contractor, has been completing in Mahoning Valley schools in recent months. Recently, its technicians finished installing voice, data and video cabling at Austintown's two new elementary school buildings. The week before that, two new elementary buildings at Niles were completed.
In addition to completing work at several other school districts and area businesses, Datacom is busy with a project at Salem Community Hospital. A three-story "bed tower" with a two-story parking garage is being constructed. Campbell's group is involved with installing all of the voice and data cabling and access control work.

"We really focus on customer service and trying to make our customers happy," said Campbell. "We believe that it doesn't always pay to go with the cheapest price, because the end result is that the installation should have been better. We make sure that we do things right."
The company was founded by David Dickey and Joe Dickey Jr. in 1994 and currently employs 13 voice/data/video installers and technicians out of its shop located at 12028 Woodworth Road in North Lima, Ohio.
Not only do Datacom's employees have personal, hands-on experience with the entire gamut of today's cabling infrastructure, they also carry the certifications that go along with this vast experience.  All of their technicians have the Building Industry Consulting Services International (BICSI) level II installer certification.
Datacom designs, installs, tests and documents its installations in accordance with EIA-TIA, the industry's leaders. In addition, it is licensed to certify its installations. This ensures the full potential of a new network is available for 20 years.
In addition to exemplary installations and great customer service, Datacom focuses on employing a well-trained staff that stays current on industry standards, as well as changes in technology. This ensures an end product that is high quality and safe.
Campbell is also mindful of hiring prior-service employees who have a strong work ethic, as evidenced by the fact that almost 40 percent of the staff is made up of military veterans.
Datacom has a Registered Communications Distribution Designer (RCDD) on staff. This certification is awarded to individuals who have demonstrated exceptional knowledge in the design, integration and implementation of telecommunications and data communications transport systems and related infrastructure.
According to Campbell, this is a good time to be working in the telecommunications industry.
"This oil and gas boom has been extremely good for the local economy," he explained. "A good amount of Datacom's work this year stems from that industry coming to our area."
For more information of Datacom Inc. and its services, call 330-549-2200 or visit www.datacomfirst.com.