NECA-IBEW Electricians was represented among Mahoning Valley participants in the 16th annual United Way Day of Caring. The event is a community-wide day of hands-on volunteering.
Jim Burgham, IBEW Local 64 business manager, joined a crew of colleagues from among the Western Reserve Building Trades Sept. 6 to both set up the "opening ceremony" breakfast among 400 volunteer participants at the Covelli Center and build a wheelchair access ramp for a homeowner in Austintown.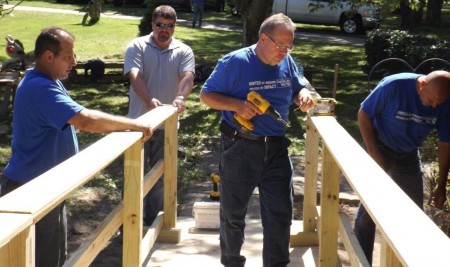 "IBEW members and many of our signatory electrical contractors share a rich tradition of supporting the United Way, and I'm proud to represent NECA-IBEW Electricians at the Day of Caring," Burgham said.
The wheelchair ramp was among 36 projects completed throughout the Mahoning Valley during the day by various businesses, government agencies, civic groups and individuals.
According to the United Way of Youngstown and the Mahoning Valley, the Day of Caring not only helps local agencies to complete much-needed tasks, but it provides volunteers with an opportunity to see first-hand how these agencies work to meet the needs of the community. The Day of Caring is also the official start of the 2013 United Way Campaign.