Local electricians Vincent Gould and Fred Beike will step off the job sites and onto the race course in the first annual Youngstown Marathon June 4.
Beike, of Beaver Township, and Gould, of North Lima, who have participated in marathons in the past, are excited to run in the Youngstown Marathon and support their local community.
"It is an honor to run in your hometown," said Gould, who currently works at VEC, Inc.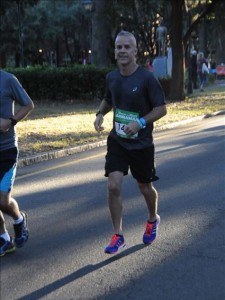 Beike works for Zenith Systems. He feels that he understands the physical challenges of running in a marathon. After all, they are the same demands that he encounters every day as an electrician.
"When you are training to become an electrician, you build both your body and your mind," Beike said. "The same goes for running in a marathon. You don't just jump into it."
VEC and Zenith are member contractors of NECA-IBEW Electricians, an association of signatory electrical contractors and IBEW locals in the Mahoning Valley.
Gould also feels that it is important to stay physically healthy, both as an electrician and as a marathon runner. However, Gould says that people are what help him both in the electrician field and during training season.
"I've met a lot of people along the way, and I truly appreciate their encouragement," Gould said.
Beike said that the most rewarding parts of being both an electrician and a marathoner are the end results.
"The best part of being an electrician is when your work comes together and you see a finished product," Beike said. "On the other hand, the best part about running in a marathon is crossing that finish line and that fantastic feeling of knowing, 'Yes, I can do this."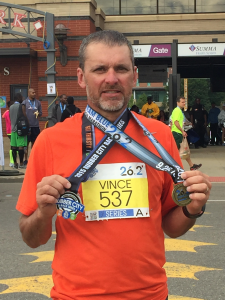 Gould also felt that seeing a job completed and crossing the finish line of a marathon are very similar and rewarding.
"That is when you know that all of your hard work and training paid off," Gould said. "It is a blessing!"
Overall, Beike and Gould feel that their careers have helped them in different aspects of their lives, including training in marathons.
"Being an electrician is a great opportunity to learn something that no one can take from you," Gould said.
Runners have the option to compete in a full- or half-marathon, a 5k or a kids run. A portion of the proceeds from the Youngstown Marathon will go to local charities.