Members, apprentices and volunteers from IBEW Local 573 in Warren are stepping up their game, literally, at this year's American Cancer Society Relay For Life on Courthouse Square in Warren May 6-7.
Every year they maintain a strong presence at the event, raising money by selling mushrooms and pulled pork and turkey sandwiches, as well as donating their electrical services by setting up the power for team tents on Courthouse Square.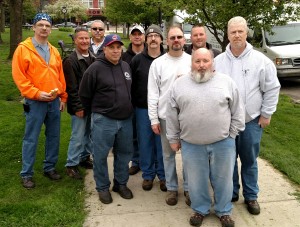 "This year we're making a commitment to walk the entire duration of the event; yet another way our members wanted to participate and give back," said Jack Morse, Local 573 business manager. "This is one of our local's signature community events and we always get a strong turnout."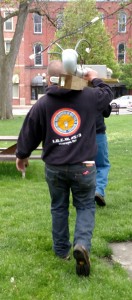 Ten current and retired member electricians spent part of their day Tuesday morning installing power for the event, a project the union takes on as a community service initiative every year.
The American Cancer Society Relay For Life movement is the world's largest and most impactful fundraising event to end cancer. It unites communities across the globe to celebrate people who have battled cancer, remember loved ones lost, and take action to finish the fight once and for all. With the support of thousands of volunteers, the American Cancer Society is helping save more than 500 lives a day.