Members and retirees of IBEW Local 573 of Warren spent the better part of the day providing electrical service to the more than 80 corporate tents being set up on Courthouse Square in advance of this weekend's Relay for Life event.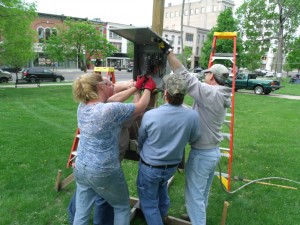 Retired past-president Jeff Brown initiated the community service project 15 years ago as a way to give back and support the city of Warren and cancer research. Each year a contingent of current and retired union electricians returns to provide this invaluable service.
"Warren is the largest Relay for Life event in the state, and it's one of the few that offers electrical service to participants," Brown said. "It's a great fundraiser that we're proud to play a role in helping make so successful."
In addition to setting up and tearing down poles, wires and related electrical equipment using upwards of 100 man-hours of donated time, as well as providing troubleshooting services throughout the weekend, Local 573 participates by walking the course and raising funds by selling sandwiches and its famous mushrooms during the event. At least one member, Nate Sherbone, is setting out to walk the entire 24-hour duration this year, according to business manager Jack Morse.
Click here for coverage in the Warren Tribune.