Volunteers from IBEW Local 573 in Warren teamed with the Trumbull 100 organization to hang nearly 100 flower baskets throughout downtown Warren this weekend. The community service project was formerly organized by longtime electrician, electrical contractor and community servant Bill Horton, who passed away last year.
"This is Bill's project. We're just proud to carry on his tradition," said Jack Morse, business manager of Local 573, who brought nearly 20 Local 573 members and their families to help hang the flower baskets on light posts throughout the downtown area.
IBEW Local 573 is part of the NECA-IBEW Electricians.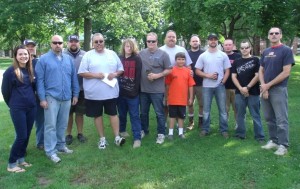 Trumbull 100, of which Horton was a longstanding member, purchases and cares for the flowers every year, and they'll remain in place until October.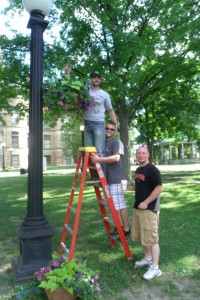 "The flowers make such a difference downtown in beautifying the area," said Sue Shafer of the Trumbull 100 and Tribune Chronicle. "When you do something like this it really shows the care and pride a group of people has in its community."