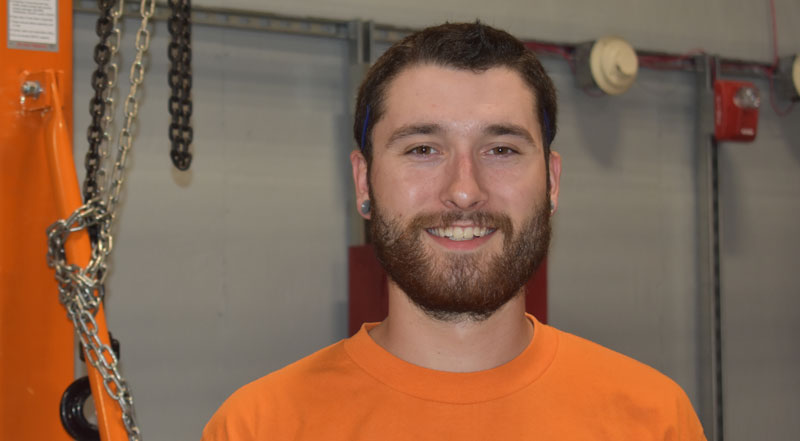 Safety and teamwork are two of the most important lessons Zach Zarbaugh has learned over his three years as a commercial electrician apprentice.
After attending Youngstown State University and working for a non-union electrician shop, Zarbaugh was looking for a change.
He applied for the apprenticeship through the Youngstown Area Electrical JATC knowing he wanted to focus on commercial electrical work.
"I enjoy the big wire pulls and big conduits," Zarbaugh said. "You really have to sit down and think about everything you're doing. You can't go in there and try to lay everything out quick."
VIDEO: Zach Zarbaugh shares some of his favorite projects as an apprentice
When recalling some of his favorite projects, Zarbaugh was quick to point out two specific sites where he learned valuable lessons – Fireline, Inc. and St. Elizabeth's Youngstown Hospital.
During his time on the Fireline project, Zarbaugh helped wire a new kiln in the plant.
"We had to run a four-inch EMT pretty much across the plant," he said. "We also had to run ten 14¾ inch pipes over to the actual kiln. It was pretty cool to see that."
The opportunity to work at St. Elizabeth's provided Zarbaugh with an in-depth look at how to lay out wiring and conduit in a hospital environment.
"It really made you think because those ceilings are packed, and you have to take into consideration where other [contractors] are going to be, and where you're going to need to be eventually."
Another interesting aspect of the St. Elizabeth's project was helping wire a new X-ray room.
"That was a pretty cool job," he said. "I never realized how much electricity goes into an X-ray room. We had to get our feed from 60 feet away, and tie into the other panels. And all the conduits had to fit in the walls."
Whatever the project may be, Zarbaugh always enjoys one specific part.
"Just seeing the job get done. Once you turn the power on, all the lights come on and the plugs and machinery is working right. It's a good feeling."
Zarbaugh also enjoys spending family time with his girlfriend, Samantha, and three-year-old son, Carter. His hobbies revolve around his passions – hunting and fishing.
Around age 15, Zarbaugh began deer hunting with his father and some friends. Years later, he ventured into the world of duck and goose hunting. Zarbaugh gets a thrill out of the tactics needed to complete a successful duck and goose hunt.
"It's a lot more active," he said. "If it's not working right or the wind isn't cooperating, you have to move the decoys and make the birds move."
As he gets close to wrapping up his apprenticeship, Zarbaugh is focused on capturing his journeyman's card. He also shared advice for those interested in joining the electrical trade.
"Be prepared to work and be able to use your head."