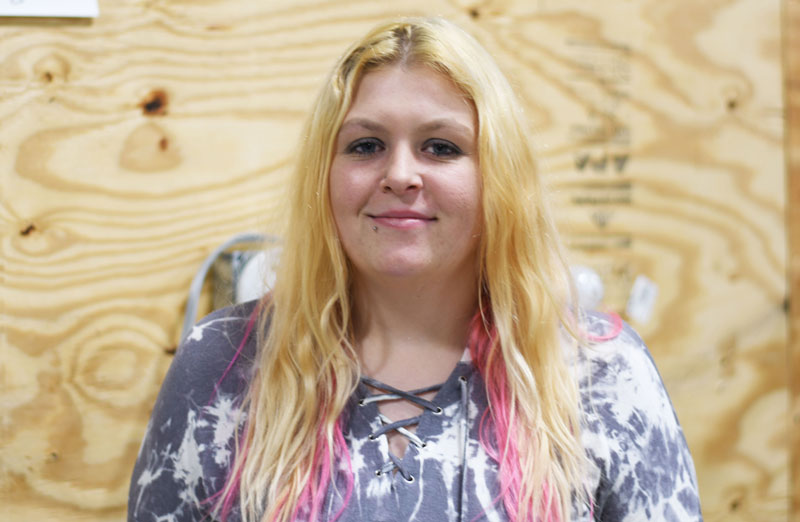 Now in her second year, it's full steam ahead for commercial electrician apprentice Sara Hartman.
"I've been involved with quite a few projects in the last couple months, and I love what I'm doing every day."
Hartman's interest in becoming an electrician first piqued thanks in large part to her family background in the electrical trade.
"I figured as an electrician, you're going to go far and make good money," she said. "And as a female, I thought it was pretty rare and would be pretty cool. So, I gave it a shot."
After previously training on the residential side, she applied and was accepted into the commercial electrician apprenticeship at the Youngstown Area Electrical JATC.
"I knew I had a passion for this field, so I applied with the mindset of focusing on the commercial side."
As a woman in the electrical trade, Hartman feels a great sense of pride in showcasing her skills.
"I was extremely nervous when I first started because I didn't think there would be any other females in the trade, but there are," she said. "You need to have tough skin and prove yourself, and it feels good to hear that you're doing a great job. It gives you a sense of accomplishment."
She's also quick to point out all the journeymen who've helped her over the first two years of her apprenticeship.
"Everyone has been very supportive in helping me along the way," she said. "I've definitely learned a lot, especially on the job."
And, there's one particular project Hartman will never forget – the first phase of expansion at Fireline Inc. in Youngstown.
"I started there, and it was like ground zero. We put up the walls and installed new panels and service. We built it all the way up, and it was both new and old work. I learned so many valuable lessons on that job."
In her down time, Hartman enjoys hunting and riding motorcycles, both hobbies she shares with her fiancé. She also feels these hobbies have helped her throughout her apprenticeship.
"Whether it's riding motorcycles or hunting, you need to have patience," she said. "I've taken that philosophy and I apply it each day on the job site."
For those interested in joining the electrical trade, Hartman believes you have to be set in your decision.
"I would tell them that it's a great idea and you have be sure this is what you want to do. You're going to learn a lot and you have to be fully committed."
For information on the electrician apprentice program, visit ATradeThatPays.com