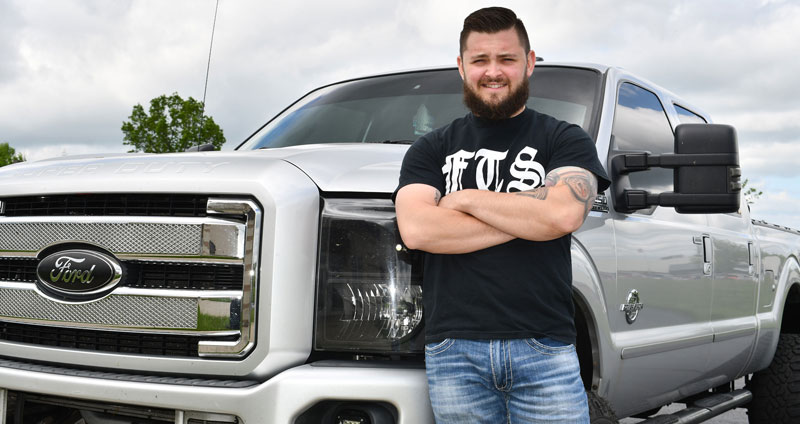 Coming from a long line of family military service, including his grandfather and brother, Mike Rowbotham knew at a young age what branch of the military he wanted to serve in.
"When I was in second grade, I told my mom I wanted to join the Marines," he said.
After enlisting in July 2012, Rowbotham was part of a landing support battalion in Vienna, Ohio. After the government closed that battalion in 2013, the unit's primary military occupation specialties (MOS) were changed to motor transport maintenance.
"My MOS was a heavy equipment mechanic," Rowbotham said. "One of my duties was to do preventative maintenance on gear, making sure nothing was broken."
Leaving as an E4 Corporal in 2018, Rowbotham is grateful for all the unforgettable bonds he made during his service.
"The best thing I got out of being in the military was meeting all the great friends throughout my six years."
Now in his fourth year as a commercial electrician apprentice, Rowbotham is enjoying all the different environments he gets to work in.
"I've been on a lot of industrial jobs lately and I love it," he said.
While working in an industrial repair shop, Rowbotham was looking to jumpstart his career.
"I had a friend in the apprenticeship who I said I should try and get in," Rowbotham said. "I applied, got in and the rest is history."
Throughout his apprenticeship, Rowbotham has learned many valuable lessons, but two stand out to him.
"Safety is definitely number one," he said. "Also, taking pride in your craftsmanship. That's a big thing. Whether you go to the big industrial jobs or small commercial jobs, you can tell who takes pride in their work."
In his spare time, Rowbotham enjoys many hobbies, one of which revolves around diesel trucks. When asked which of his previous diesel trucks was his favorite, he couldn't pick just one.
"I love them all," he chuckled. "I had a 750-horsepower truck which was fun. Just hearing that horsepower is like being a kid in a candy shop."
Rowbotham has also rebuilt a bobber motorcycle, which included putting the bike together three different times.
"That was a solid eight months of dedication to it. It was definitely worth it the first time I was able to take it down the road."
Reflecting on his time in the Marines, Rowbotham believes there is a parallel between the military and electrical trade.
"The biggest thing I learned from the military was if you don't work for it, you're not going to get it. That applies to the apprenticeship as well. If you don't put the time and effort in, you won't get anything out of it.'