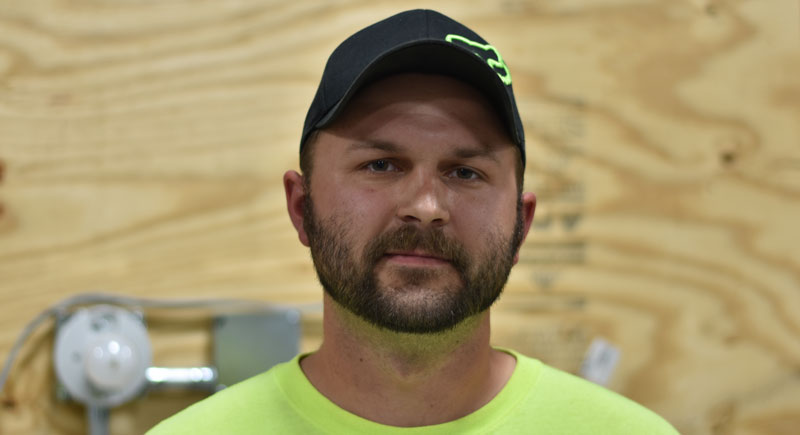 Since he was young, Joe Kay's world has revolved around the electrical trade.
His father, Dave, started R.D. Kay Electric in 1990 as a one-man shop with a red Ford F-150. As the business grew, Dave organized into IBEW Local 64.
"That was basically my childhood," Joe said. "Riding around in my dad's work truck, going to YESCO and Graybar. I've kind of just been around it my whole life."
As he grew up, Joe would help his father with little electrical projects around the house.
"I just found out that I loved it," he said. "I was very, very good at it, and figured I'd make a career out of it. The rest is history."
In his teenage years, Joe worked with his father on various residential projects to help pay for his first truck. The lessons learned from his father helped Kay establish a foundation that he would later build upon.
"He was so meticulous about everything. If there was a piece of Romex crossed or it didn't look right, he would tell me. That was him taking pride in his work and teaching me the right way to do things. I thank him every day for it, and I try to base my work off of him."
After his father passed away in 2008, Joe knew he wanted to follow in his footsteps. In July 2011, he started as a commercial electrician apprentice.
On the job site, he got the opportunity to work with a few journeyman electricians that were previously employed by his father.
"It was an out of body experience," Kay said. "My dad used to give the orders to his guys, and now they were giving the orders to me."
Two years ago, Kay topped out and joined Santon Electric as an inside wireman. He feels a great sense of pride in his career choice.
"It's extremely rewarding, especially when you have three or four guys under you that are putting thousands of feet of PVC in the ground daily. To see it all come together makes everything worth it."
When he's working on a project, Joe can't help but think of his father.
"With the road that my father paved for me, his work was completely 100 percent perfect," he said. "I tell myself that every day."
Joe also learned a valuable lesson from his father, and during his time as an apprentice.
"Basically, just have pride in your work. Always be motivated, and you always have to go to work each day knowing you're going to learn something new."
Joe has worked on a diverse range of projects early in his career, including coal-fired power plants, gas stations and the V&M Star pipe mill. His favorite project involved high voltage work at St. Elizabeth Boardman Hospital.
"That [project] just intrigued me. The big wire pulls, high voltage and making up stress cones. Also, building a substation was incredible."
Joe's younger brother is also in the electrical trade, training to become a lineman. When asked how his father would feel that his sons were following in his footsteps, Joe smiled and spoke from his heart.
"Knowing that me and my little brother are pursuing careers in electricity, that probably means more to him than anything."