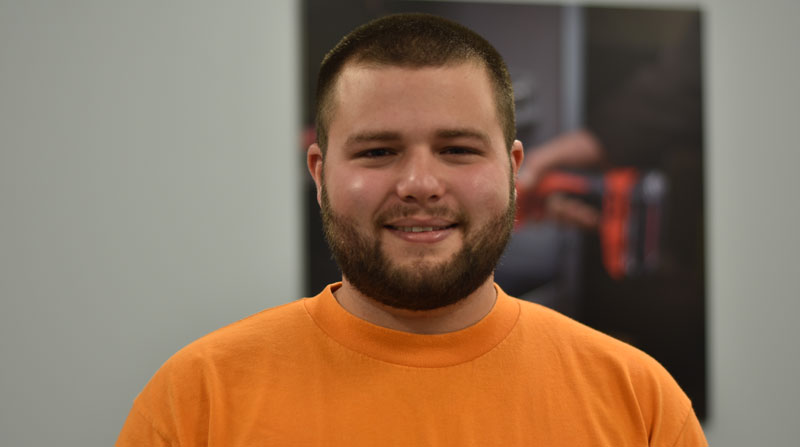 For fifth-year commercial electrician apprentice Cody Hilliard, a career as a journeyman electrician wasn't something he originally planned.
After beginning on a college path, Hilliard decided to follow his family roots and pursue a career in the electrical trade.
"It seemed to be a little bit better suited for myself," Hilliard said. "When you come from a family with electricians in it, you have more people to network with, ask questions and get a better understanding of the entire field."
Hilliard's first venture into the electrical trade was a job with Valley Electric, where he worked for close to two years. After that, he was accepted into the five-year commercial electrician apprenticeship.
There is one distinct factor that gravitated Hilliard toward the apprenticeship through the Youngstown Area Electrical JATC – the education.
"I understood the educational benefits that came with the apprenticeship," he said. "I wanted the best education I could get that will lead to success in the electrical industry."
Along with the educational aspect, Hilliard values the opportunities to learn from experienced journeymen in the field.
"You can always learn something from whomever you work with," he said. "As an apprentice, you can learn different niches from each journeyman, and you need to learn as much as you can."
When asked about his favorite job throughout his apprenticeship, Hilliard remarked that each job he's been on has had different aspects that make it memorable. At the DoubleTree Hotel in downtown Youngstown, for instance, there were historical elements of the building that needed to be preserved.
"You had to be a problem-solver to make things work without defacing the original decoration of the building."
Another project that challenged Hilliard was the Youngstown YMCA renovation, where there was multiple generations of electrical work done on the building.
"Sometimes, you'd open a junction box up and it's completely unfamiliar with what you do today," Hilliard said. "I was lucky to be with a journeyman who spent the extra time to show me everything."
Hilliard also feels the challenges that come with each job have prepared him for success in his career.
"The electrical industry is kind of vengeful to your confidence. The best way to put it is every time you start building your confidence up, there's a curve ball thrown at you. In the end, that's what helps make the best electricians. You need to handle what's thrown at you on a daily basis."
When he's off the clock, Hilliard is an avid white-tailed deer hunter and trout fisherman.
"Archery hunting for white-tail is probably the thing I enjoy most in my free time," he said.
His passion for hunting and fishing draws from various family hunting trips with his grandfather, father, uncles and cousins.
Along with his hobbies, Hilliard enjoys riding classic BMW motorcycles with his fiancé, Lindsay.
"I have a 1979 R80/7 motorcycle, and my fiancé has a 1982 R65. We like to ride as much as we can."
As he gets set to wrap up his apprenticeship, Hilliard's eyes are set on obtaining his journeyman's card and the future that awaits him.
"Right now, I want to be as prepared as I can for when I become a journeyman within the next year."
For more information on the apprenticeship program, visit ATradeThatPays.com