Howard "Howdy" Friend, a World War II veteran, considers himself a lucky man.
"The way I look at it, I was given over 70 extra years of life after the war," said the 91-year-old Friend, a retired educator and administrator living in Poland. "I am appreciative of every opportunity that has come my way."
NECA-IBEW Electricians, sponsors of the Mahoning Valley Scrappers' Military Appreciation Nights throughout the season, deferred their ceremonial first pitch to Friend after hearing his compelling story of heroism during the Battle of the Bulge.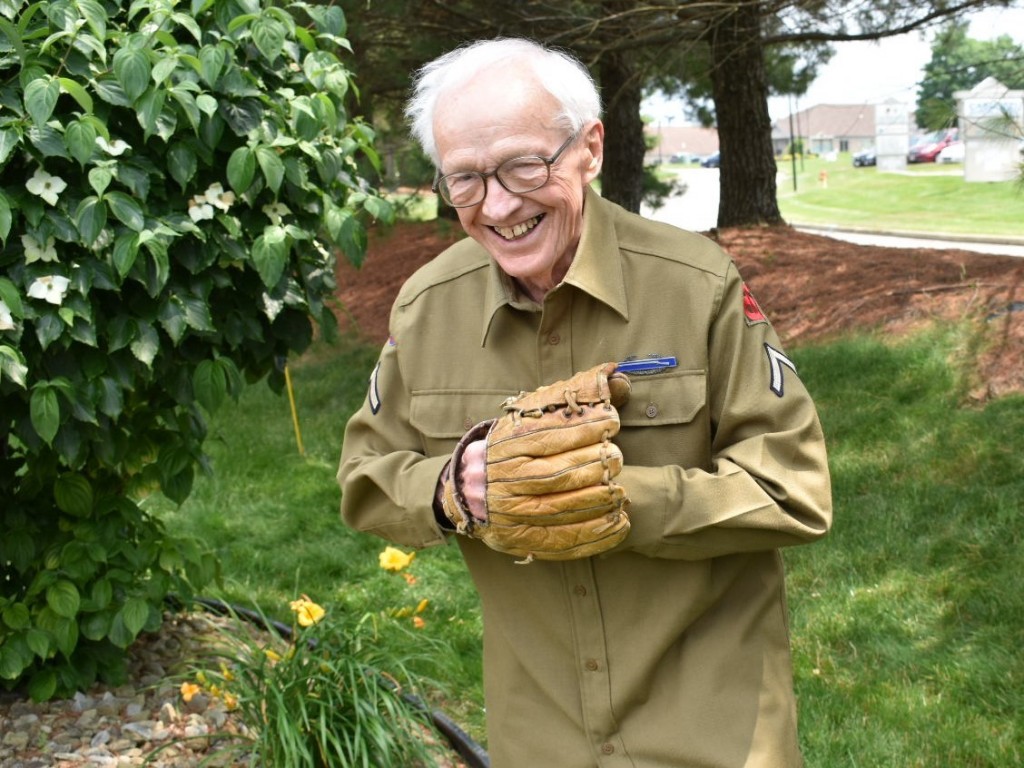 "Mr. Friend says he's thankful for the opportunity to throw the first pitch, but it's us who are thankful for his bravery and service to this country, as we are with all Veterans," said Jim Burgham, business manager, IBEW Local 64 in Youngstown.
Friend's military career in the United States Army began on June 15, 1944; just nine days after D-Day and Friend's high school graduation.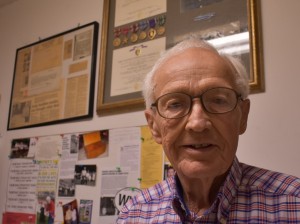 After basic training, Friend was assigned to the US Third Army led by Gen. George Patton and became a machine gunner.
On Jan. 9, 1945, as he and his fellow soldiers were in France headed to fight in the Battle of the Bulge, Friend was hit by shrapnel and severely injured his upper leg. Friend lay for countless hours in a ditch, bleeding and in pain hoping someone would come to his aid. He was 19 at the time.
"I do not remember how long I laid there alone," Friend said. "I do not know if I was there for hours or days. I slipped in and out of consciousness from the pain."
American medics finally found Friend, applied a tourniquet to his leg and transported him to a military hospital. After a full year of treatment and recovery at various hospitals throughout Europe and the U.S., Friend was honorably discharged on May 26, 1946. Although his military service may have ended, his bravery did not go unnoticed. He received a Purple Heart and a Bronze Star for his meritorious action.
Prior to his military career, Friend loved sports. He starred on the undefeated 1942 Woodrow Wilson High School football team and was named All City end that year. When Friend returned home from his service, his passion for sports did not diminish.
"After the war, I knew that physical activity would be good for me," Friend said. "Although I did not get the chance to play college sports, I was still able to get involved by coaching."
Friend began to get more involved with baseball as his children were growing up. He later coached Little League baseball, and was ultimately inducted into the Curbstone Coaches Hall of Fame in 1994 and the Poland Community Baseball Hall of Fame in 2004.
Due to the fond memories of playing baseball with his children, Friend "could not be more grateful" about being selected to throw the first pitch at the Scrappers.
"It is an honor to be asked to do this," Friend said. "How do you say no to a recognition like that?"
He added that he is looking forward to seeing his children and grandchildren at the game as they cheer him on.
Overall, Friend has felt very blessed in his life after his military service.
"I have no regrets," he said. "I am standing on two legs. I have a wonderful family and a story to tell. Life is good."
Fans can see Friend throwing the first pitch on Wed., June 21 at Eastwood Field in Niles.
The association of IBEW union electricians in Youngstown and Warren, and signatory Mahoning Valley electrical contractors intends to donate their first pitches to all six Military Appreciation Nights throughout the season.