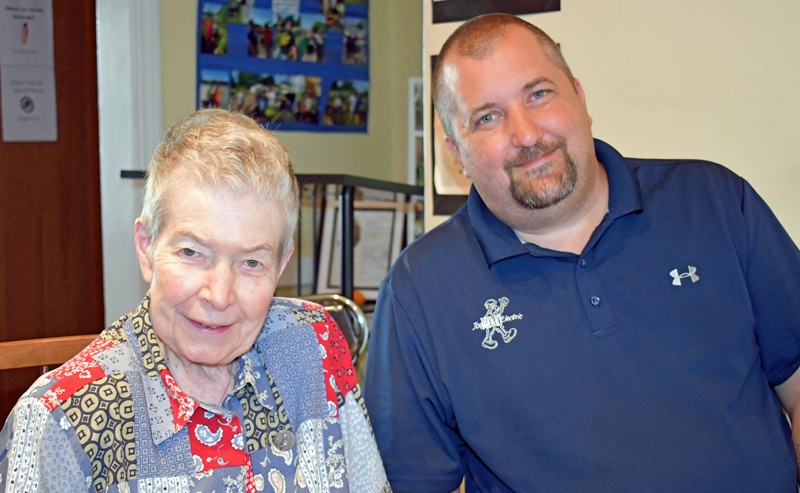 Sitting with Sister Ann McManamon of the Dorothy Day House, you can hear the passion in her voice of continuing the vision of Dorothy Day, and how member contractor "Joe" Dickey Electric has been a crucial partner in that mission.
Opened in November 2009, the Dorothy Day House of Hospitality offers hot meals, showers and clothing to men, women and children throughout the community who are in need.
When the organization first took over their location on Belmont Ave., it was in desperate need of repairs.
"This is a 107-year-old house," McManamon said. "It was vandalized to the ground before we took it over. The electric, heating and water were destroyed."
Over the last several years, Dickey has lent a helping hand to the organization by donating their time and materials to several projects.
"We had to renew all of the electric on the first floor or we couldn't operate," McManamon said. "Dickey has done a great job and been a great partner in helping our mission."
Some of these projects include fixing track lighting in the dining area, along with updating switches, outlets and circuits throughout the building.
Recently, Dickey installed new wiring for a donated air conditioner and kitchen exhaust fan.
"Getting up to the second floor for the air conditioner, we had to come up from the basement service panels," said Dan Matula, residential project manager, Dickey Electric. "We piped up the outside of the house, installed a new outlet and tested everything."
To enhance safety in the back-parking lot, Dickey also mounted outside security lights.
"We put in four security lights around the building that come on every night for extra lighting and protection outside," Matula said.
Reflecting on the relationship built with Sister Ann, Matula is proud to help the Dorothy Day House make an impact in the Mahoning Valley.
"It feels great to give back," he said. "As a member of this community, it's great to work for a company in Dickey Electric that prioritizes community involvement."
"Joe" Dickey Electric is a member contractor of NECA-IBEW Electricians, an association of signatory Mahoning Valley electrical contractors and IBEW locals in Youngstown and Warren.