Volunteers from IBEW Local 573 in Warren carried on a recent tradition started by a now-deceased member of their union by hanging flower baskets throughout Warren's Courthouse Square, amphitheater and surrounding roads in downtown Warren.
More than 20 IBEW members and their families donated their time and labor to assist the Trumbull 100, of which Local 573 is a member, in the annual beautification project.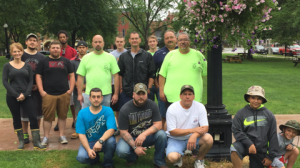 "Bill Horton is a long-time member of IBEW Local 573 who used to lead this project before his untimely passing two years ago, and his union brethren are proud to continue what he started, both in his memory and because of our pride in the city of Warren," said Jack Morse, IBEW Local 573 business manager.
IBEW Local 573 is part of NECA-IBEW Electricians, a group of union electrical contractors and IBEW-represented electricians from Warren and Youngstown (IBEW Local 64).