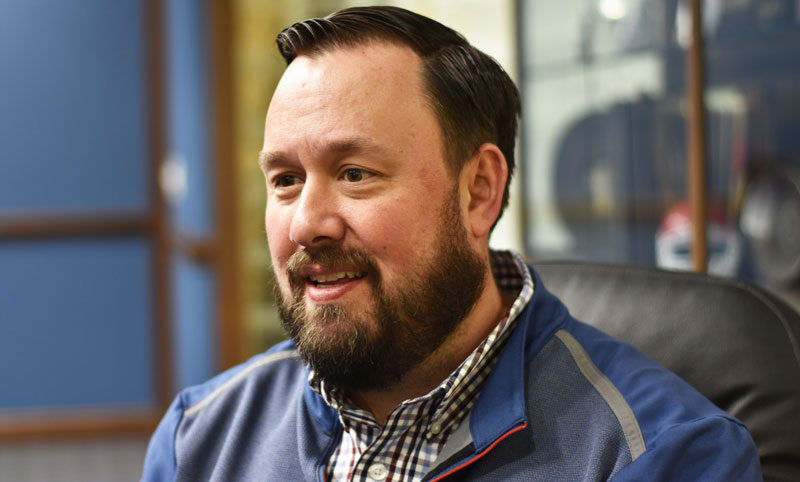 This is part one of a two-part series.
Eric Carlson's path to a career in the electrical trade started with learning the basics from his father, Gary, who was an electrician for 42 years and retired from "Joe" Dickey Electric in 1999.
"I grew up around the electrical industry," Carlson said. "Even as a young boy, my dad would show me how to wire outlets. If he was going over to fix something at someone's house, he would take me along with him."
One particular memory was visiting Youngstown State University's Stambaugh Stadium with his dad while it was under construction.
"I was probably seven or eight years old at the time," he said. "I remember climbing all the way to the top when it was still under construction. Just seeing the construction and being a part of it is what I've been around since I was a young boy."
While other kids would play with toys, Carlson aimed to expand his knowledge of the tools of the electrical trade.
"My dad would bring home old motors, old disconnects or pieces of electrical equipment that I would tear apart. I was always trying to see how things worked, and he was always trying to teach me."
When he was 14 years old, Carlson was striving to complete his Eagle Scout project, which consisted of building a 16-foot pedestrian bridge on a walking trail in Boardman Park.
"I came up with the design and thought I was playing civil engineer," he said.
A critical portion of the project involved fundraising. This is when Carlson first encountered how important community service is to the Dickey family and "Joe" Dickey Electric. Dave Dickey, CEO at the time, told Carlson's father he would be more than happy to help.
"My dad reached out to Dave and asked for a couple hundred dollars to help with the project. Dave said, 'I can do better than that. Go down to the lumberyard and buy whatever materials you need to build the bridge and I'll take care of it.'"
That sense of generosity truly made an impact on Carlson.
"I was very grateful that the Dickey family stepped up and funded my project," he said. "I had no idea at the time what that really meant. Seeing it for the last 27 years as far as how involved in the community they are, it's a true example of the people and pillars that they are. It's really helped shape me in how I deal with the community. You have to be able to step up and help the organizations that mean a lot to you."