Bruce & Merrilees Electric Company, a NECA-IBEW Electricians member contractor based in New Castle, was recently named to Pittsburgh Business Times' list of 2013's "Best Places to Work in Western PA."
Bruce & Merrilees was recognized in the "Medium (51-150 employees)" business category and will be honored at an awards luncheon Oct. 31.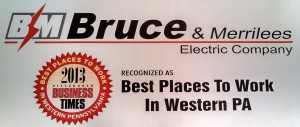 "It's fantastic to be honored in this way," said Joseph Smaldino, talent manager at Bruce & Merrilees. "I've only been here six months, but from the beginning, I knew there was something different about this place. Things here are done right and the employees are recognized for the great job they do. We wouldn't be successful without them."
The award was the result of a third-party survey that Bruce & Merrilees employees were asked to complete about their work experience. To be eligible for the award, the company was required to receive a high level of positive feedback from their team members. The Pittsburgh Business Times then selected winners from the pool of businesses who fit the profile.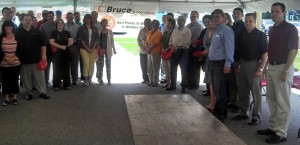 "We value our employees and customers and are grateful to be recognized for this award," said Smaldino.
Bruce & Merrilees' team includes office support and field team members. The company specializes in large-scale electrical projects, including industrial and commercial, high voltage construction, transportation electrical systems and ongoing maintenance and service projects.
For more information, visit www.bruceandmerrilees.com.