This is part one of a two-part installment on Bruce & Merrilees Electric.
The year was 1948. J. Howard Bruce returned to New Castle, Pa. from Pearl Harbor, where he repaired damaged ships as a civilian electrician. With a family background in the electrical field, he looked to forge his own path.
"His brother had an electrical supply house and he wanted to differentiate himself," said Robert J. Bruce, chairman of Bruce & Merrilees and son of J. Howard Bruce.
Bruce met J.P. Merrilees, who was the owner of Merrilees Electric. Mr. Merrilees had no children and was looking to retire. The two made a deal and Bruce & Merrilees was founded, but it was met with a tragic twist soon after.
"Just after the conclusion of the agreement, Mr. Merrilees died," said Justin L. Bruce, executive vice president of Bruce & Merrilees. "My grandfather made a promise to the widow that he would keep the name."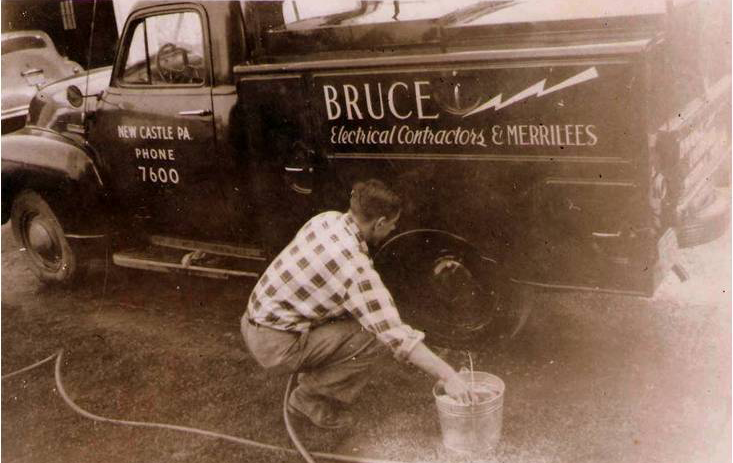 Fast forward 70 years and Bruce & Merrilees is still going strong serving residential, commercial and industrial customers. Robert now has passed the business down to his three sons, Jay, Justin and Jonathan.
"It's a wonderful thing to have been here for 70 years," Robert said. "To pass it down from my father, to myself and then my sons is an enormous gratification."
Robert and Justin feel there are several keys in place to run a successful family business since 1948.
"A lot of effort, planning and education," Robert said. "Education is one of the keys to our industry now. We must have all of our people trained so they understand how to accomplish things safely."
"In our field, technology is a huge component to all that we do," Justin said. "Our ability to track and keep up with technology and utilize it has always been a true advantage for us."
For Justin, one word comes to mind when thinking about being in business for 70 years.
"The first word that comes to mind is proud. Our grandfather started this company with the intention of having his own business, to be independent and choose his own destiny. It's a matter of being thankful for all of our customers, employees and grateful to continue this on."
Over the last 70 years, Bruce & Merrilees has been involved with countless projects. Robert reflected on two of them he enjoyed the most.
"One of them was the paint facility at the GM Lordstown plant. There were three or four jobs over there," he said. "McDonald Steel was another. It was a very interesting job and took a lot of engineering and design work."
Robert also recalled one specific memory from his childhood.
"Working with my mother. She handled our inventory for many years," he said. "Being there and helping sort nuts and bolts. All three of my sons did that as they grew up too."
When it comes down to it, family always will be at the forefront for Bruce & Merrilees Electric.
"It takes a commitment to our culture and our people," Justin said. "One of the benefits we have is we are a close-knit family."
Bruce & Merrilees is a member contractor of NECA-IBEW Electricians, an association of IBEW-represented electricians and signatory contractors serving the Mahoning Valley.