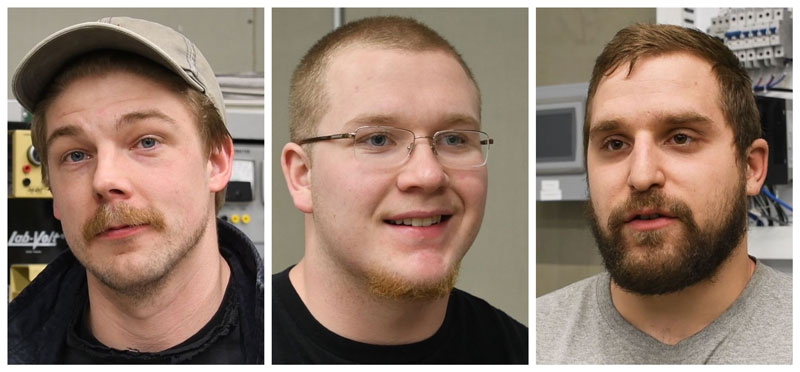 Starting down a path to a successful career, three first-year electrician apprentices through the Youngstown Area Electrical JATC were eager to share their stories and experiences.
"I really love it," said Pete Barone, commercial electrician apprentice. "Honestly, ever since I walked in the door, I could tell I'm part of something a lot different than I'm normally used to, especially coming from a non-union background. The stuff available to us, whether it's the lab or classroom and teachers, everything is above and beyond."
Barone was first introduced to the electrical trade through two friends.
"I was at a point in my life where I was working in a steel mill and wanted to go further than that," he said. "I felt like I was wasting a lot of potential."
Barone believes he's found his career calling.
"Next thing I know, I fell in love. There's not anything else I'd rather do with my life than be an electrician."
For Randy Lowe, a family background in the construction trades propelled him to become an electrician.
"What guided me was definitely my father," he said. "He's a union carpenter, and he told me to try this or the plumbers. I aced the electrician exam, got in and I've been running with it ever since."
First topping out as a residential journeyman in 2013, Lowe turned his focus to the commercial side last year.
"My first year as a commercial electrician apprentice has been going really well," he said. "All the guys I've worked with are really nice. They show you how to do things. All you have to do is ask the right questions."
Lowe also feels a great sense of satisfaction being a union member.
"What keep me going is the union pride. Coming from that background, I definitely carry that with me."
With a mother who is a teacher, college was always the main focus for first-year residential electrician apprentice Nate Richards.
But, toward the end of his high school career, Richards concentrated on a career in the electrical trade.
"I took college classes in high school," he said. "Toward the end of my senior year, the blue-collar life appealed to me. I decided I could make money while I'm learning a lot of cool stuff."
Richards also commented on how much he's grown since his first day on the job.
"I've learned a lot of cool, new things that I never thought I'd learn," he said. "It's unbelievable how much I've learned and can do."
For those interested in joining the electrical trade, there are a few qualities needed to be successful.
"You definitely need mechanical ability," said Bill Booth, president, IBEW Local 64 in Youngstown. "We turn wrenches and things like that in this trade. The other things are just somebody who's going to be dependable. We need someone who's going to show up to work. We'll teach you the electricity portion of the trade. Experience is always good if you have that as well."
Booth believes one of the most rewarding aspects of being an electrician is the feeling of accomplishment when a project is completed.
"I think when that project is done and you drive by there and you say, 'I was apart of that, I helped put that together.' I think that's very rewarding."
For more information on the electrician apprentice program, visit ATradeThatPays.com